After falling nearly 32% and significantly underperforming its value counterpart in 2022, the Morningstar US Large-Mid Cap Broad Growth Index, one of the Morningstar Broad Style Indexes, has turned the tables thus far in 2023, rising 8.5% in the month of January.
This is nearly 4 percentage points more than the Morningstar US Large-Mid Cap Broad Value Index, which rose 4.7% in January.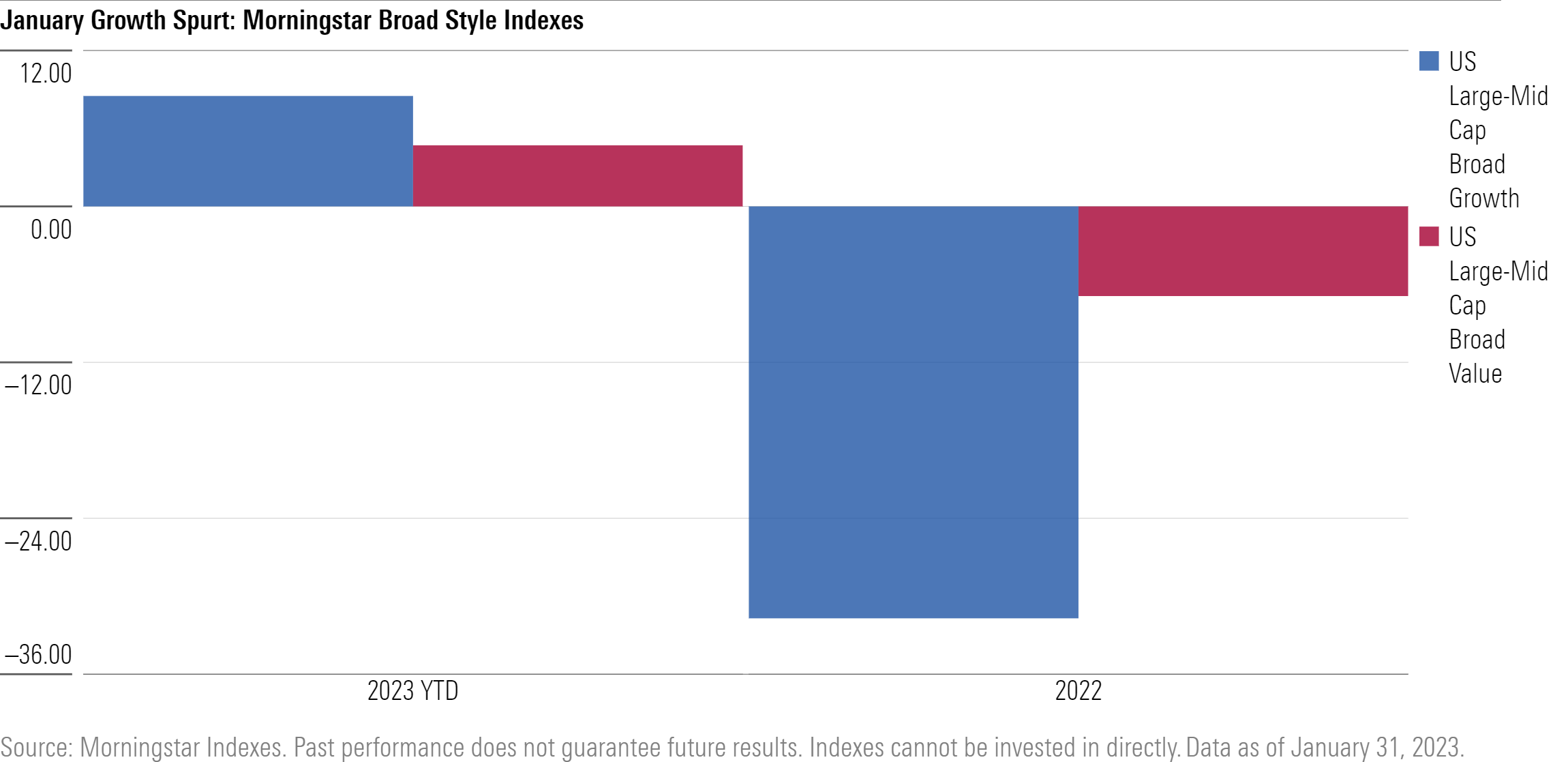 Dan Lefkovitz, Strategist, Morningstar Indexes
"January saw a sharp reversal of the style dynamics that characterized 2022. Technology and consumer cyclical stocks like NVIDIA, Tesla, and Apple logged big gains in the first trading weeks of the year. Many investors clearly bet that the market was pricing in too much bad news coming into 2023 and favored some of the same growth stocks that were battered in 2022 by rate hikes and recessionary fears."
To see more from Morningstar on the latest factors at play in the ongoing tug of war between value- and growth-oriented investments, access the latest Morningstar Quarterly Style Monitor on the Morningstar Indexes Website.
---
©2023 Morningstar. All Rights Reserved. The information, data, analyses and opinions contained herein (1) include the proprietary information of Morningstar, (2) may not be copied or redistributed, (3) do not constitute investment advice offered by Morningstar, (4) are provided solely for informational purposes and therefore are not an offer to buy or sell a security, and (5) are not warranted to be correct, complete or accurate. Morningstar has not given its consent to be deemed an "expert" under the federal Securities Act of 1933. Except as otherwise required by law, Morningstar is not responsible for any trading decisions, damages or other losses resulting from, or related to, this information, data, analyses or opinions or their use. Past performance does not guarantee future results. Before making any investment decision, consider if the investment is suitable for you by referencing your own financial position, investment objectives, and risk profile. Always consult with your financial advisor before investing.
Morningstar indexes are created and maintained by Morningstar, Inc. Morningstar® is a registered trademark of Morningstar, Inc.