According to new analysis and insights from Morningstar Indexes, 2023 has reinforced that investors can never truly predict how the market will behave and every market cycle is different.
Rates are up, but banks are largely down with a 24.5% year-to-date loss for the Morningstar US Regional Bank Index.
Stocks and bonds have climbed in lockstep after a year in which simultaneous cross-asset class losses had some experts predicting "the death of the 60/40 portfolio."

And, in a year which has included a run on financial institutions linked to venture capital and cryptocurrency, the demise of a 167-year-old Swiss bank and an unrelenting attack on inflation through interest rate hikes by the Federal Reserve and other central banks, global equity and fixed income markets have defied the odds. The Morningstar Global Markets Index and the Morningstar Global Core Bond Index are up 8.4% and 2.3%, respectively, through April 17.
Stocks, Bonds, and a Balanced Portfolio Have Shaken Off Rising Rates in 2023. Banks, Not So Much.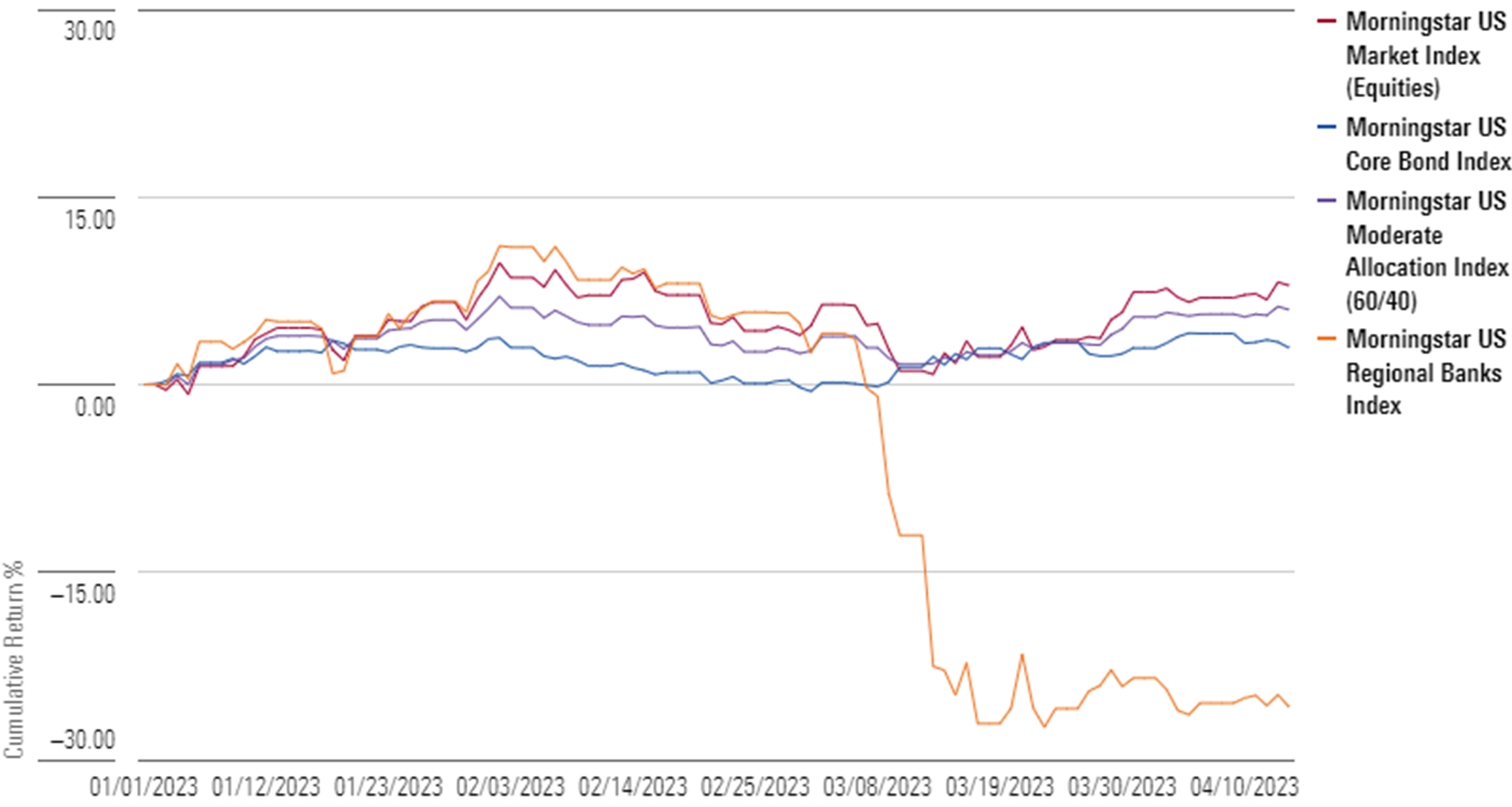 Dan Lefkovitz, Morningstar Indexes Strategist:
"Investors are often told that banks benefit from higher rates. But magnitude clearly matters, and the broader context is critical. It's reminiscent of last year when dividend-paying stocks performed well, defying the conventional wisdom that rising rates make dividends less attractive. Meanwhile, you'll notice no one is complaining about the breakdown of diversification in 2023, because stocks and bonds are both up. Investors should question the conventional wisdom about the forces that move markets, how assets interact, and which investments best suit the macro environment."
You can find additional insights from Dan in his new research paper, Despite Rising Rates, Banks Are Down While Stocks and Bonds Are Up.
---
©2023 Morningstar. All Rights Reserved. The information, data, analyses and opinions contained herein (1) include the proprietary information of Morningstar, (2) may not be copied or redistributed, (3) do not constitute investment advice offered by Morningstar, (4) are provided solely for informational purposes and therefore are not an offer to buy or sell a security, and (5) are not warranted to be correct, complete or accurate. Morningstar has not given its consent to be deemed an "expert" under the federal Securities Act of 1933. Except as otherwise required by law, Morningstar is not responsible for any trading decisions, damages or other losses resulting from, or related to, this information, data, analyses or opinions or their use. References to specific securities or other investment options should not be considered an offer (as defined by the Securities and Exchange Act) to purchase or sell that specific investment. Past performance does not guarantee future results. Before making any investment decision, consider if the investment is suitable for you by referencing your own financial position, investment objectives, and risk profile. Always consult with your financial advisor before investing.
Indexes are unmanaged and not available for direct investment.
Morningstar indexes are created and maintained by Morningstar, Inc. Morningstar® is a registered trademark of Morningstar, Inc.