The Takeaway
Since June 2021, 25 of Morningstar's 48 countries indexes became less domestic, 18 became more domestic, and five stayed constant.
While European markets remain the most global, the U.S. remains the world's largest equity market, pulling in more revenue internationally since 2021.
Equity markets in the U.S., Japan, Germany, the United Kingdom, Brazil, China and Australia all sourced more revenue outside their borders than in 2021.
---
We are living in a "postglobal world," according to the title of a new book that declares a "new age of economic localization." "Reinventing Globalisation" was a recent cover from The Economist. "Offshoring," popular in the 1990s and 2000s, has become a dirty word, while "onshoring," "reshoring," and "slowbalization" are trending. Even before the pandemic, inflation, and war in Europe exposed the downside of global supply chains, political currents had turned against globalization. Politicians extol the virtues of independence, self-sufficiency, and "taking back control."
What do equity markets tell us about globalization? Contrary to popular perception, business has become more global, according to Morningstar estimates based on revenue sources disclosed in public companies' annual reports. The world map below displays the share of revenue earned domestically for 48 markets, represented by Morningstar country indexes, which aggregate to the Morningstar Global Markets Index, a broad gauge of equities across developed and emerging markets that currently contains 8,399 constituents.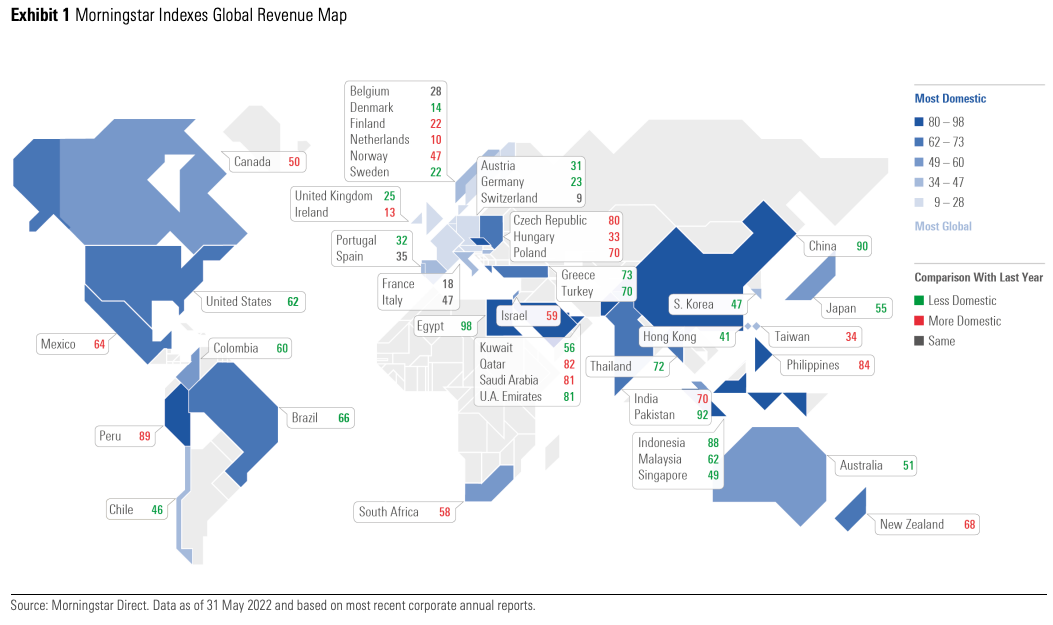 ---
©2022 Morningstar. All Rights Reserved. The information, data, analyses and opinions contained herein (1) include the proprietary information of Morningstar, (2) may not be copied or redistributed, (3) do not constitute investment advice offered by Morningstar, (4) are provided solely for informational purposes and therefore are not an offer to buy or sell a security, and (5) are not warranted to be correct, complete or accurate. Morningstar has not given its consent to be deemed an "expert" under the federal Securities Act of 1933. Except as otherwise required by law, Morningstar is not responsible for any trading decisions, damages or other losses resulting from, or related to, this information, data, analyses or opinions or their use. References to specific securities or other investment options should not be considered an offer (as defined by the Securities and Exchange Act) to purchase or sell that specific investment. Past performance does not guarantee future results. Before making any investment decision, consider if the investment is suitable for you by referencing your own financial position, investment objectives, and risk profile. Always consult with your financial advisor before investing.
Indexes are unmanaged and not available for direct investment.
Morningstar indexes are created and maintained by Morningstar, Inc. Morningstar® is a registered trademark of Morningstar, Inc.