A trio of Chapter 11 filings has propelled the default rate of the Morningstar LSTA US Leveraged Loan Index to a two-year high, and the quarterly annualized default rate to its highest level since the pandemic default peak of September 2020.
Starting with the more commonly cited trailing-12-month calculation, the 1.58% default rate by amount is only 28 bps shy of the 1.86% 10-year average for leveraged loan defaults.
With one issuer rolling off the 12-month trailing calculation, the three defaults (courtesy of Envision Healthcare, Monitronics International and Venator Materials) added 30 bps to May's starting point of 1.28%. Venator filed on Sunday, May 14, while Envision and Monitronics filed on May 15.
Envision alone accounted for 20 bps of this jump in the default rate by amount.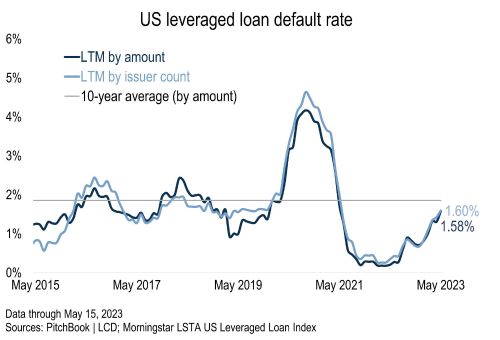 By issuer count, the loan default rate now stands at 1.60%, from 1.42% at the end of April.
Only three other times have three or more defaults occurred in a single business day, according to LCD data.