The Takeaway
Receding inflation during the quarter made for a more favorable market environment, with all style indexes closing in positive territory. Across the globe, growth fared better than value.
The margin of outperformance for US large growth was higher than for other size segments, with small-cap segments following behind.
Portfolio resets were mainly attributable to corporate actions and price fluctuations.
Globally, growth stocks' superior performance relative to value was driven largely by differences in intrasector stock selection and sector allocation.
---
From a style-agnostic perspective during the first quarter of 2023, large-cap US stocks outpaced the small and large counterparts, and growth performed much better than value across all segments predominantly due to predominant macro uncertainties around Fed hike and banking crisis. Similarly, in developed markets outside the US, growth stocks outpaced their value counterparts.
US Large Broad Growth being overweight the technology and consumer cyclical sectors, along with being underweight financial services, were the most notable sector tilts that contributed to better performance in large-cap growth stocks in the US.
In the United States, large-value stocks' underperformance relative to growth was driven primarily by differences in selection effects.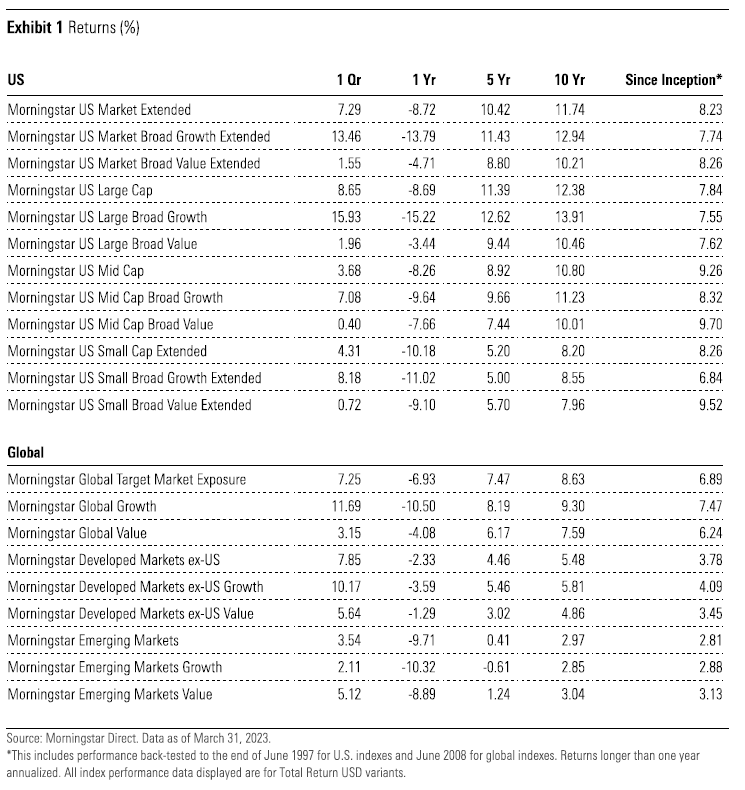 ---
©2023 Morningstar. All Rights Reserved. The information, data, analyses and opinions contained herein (1) include the proprietary information of Morningstar, (2) may not be copied or redistributed, (3) do not constitute investment advice offered by Morningstar, (4) are provided solely for informational purposes and therefore are not an offer to buy or sell a security, and (5) are not warranted to be correct, complete or accurate. Morningstar has not given its consent to be deemed an "expert" under the federal Securities Act of 1933. Except as otherwise required by law, Morningstar is not responsible for any trading decisions, damages or other losses resulting from, or related to, this information, data, analyses or opinions or their use. References to specific securities or other investment options should not be considered an offer (as defined by the Securities and Exchange Act) to purchase or sell that specific investment. Past performance does not guarantee future results. Before making any investment decision, consider if the investment is suitable for you by referencing your own financial position, investment objectives, and risk profile. Always consult with your financial advisor before investing.
Indexes are unmanaged and not available for direct investment.
Morningstar indexes are created and maintained by Morningstar, Inc. Morningstar® is a registered trademark of Morningstar, Inc.