Every climate-related investment approach is unique in its characteristics and goals and, as a result, can deliver a wide range of investment outcomes.
In his new paper – There's More Than One Way to Be a Climate Investor – Morningstar Indexes Strategist Dan Lefkovitz examines both ESG profiles and performance for a range Morningstar Indexes' climate-related equity benchmarks in 2022 and 2023, finding that different approaches have delivered divergent results for investors.
For example, the Morningstar Global ex-Fossil Fuels Index, Global Markets EU Climate Transition Benchmark, and Global Markets Sustainable Environment Index, all broadly diversified with an ESG tilt, have outperformed so far in 2023 as global equity markets have surged, but underperformed during the downturn of 2022.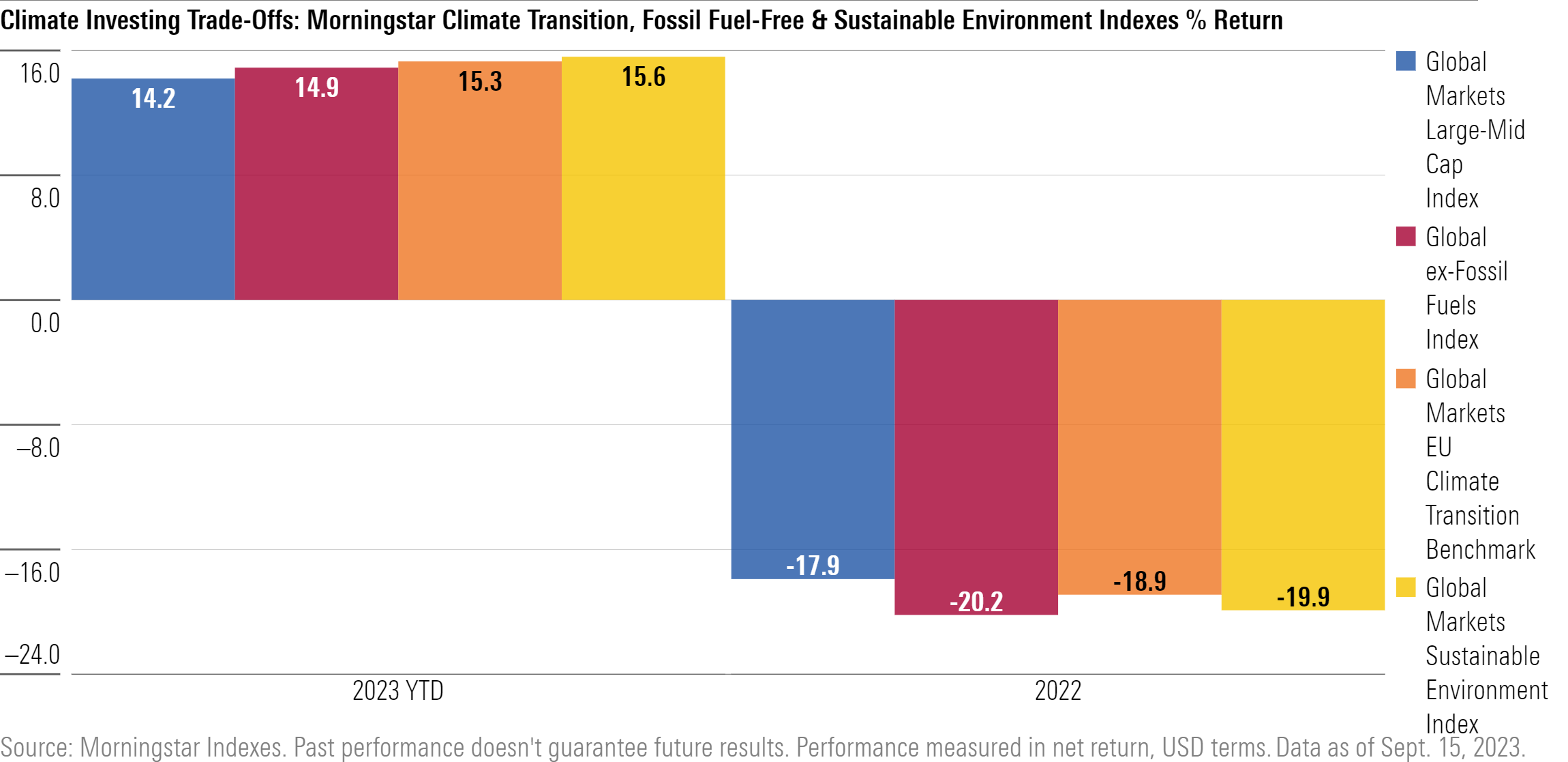 On the other hand, the Morningstar Global Markets Renewable Energy Index and Morningstar Global Energy Transition Index, benchmarks with a narrower focus on climate solutions and a more selective approach, outperformed in the market downturn of 2022 but have underperformed in 2023.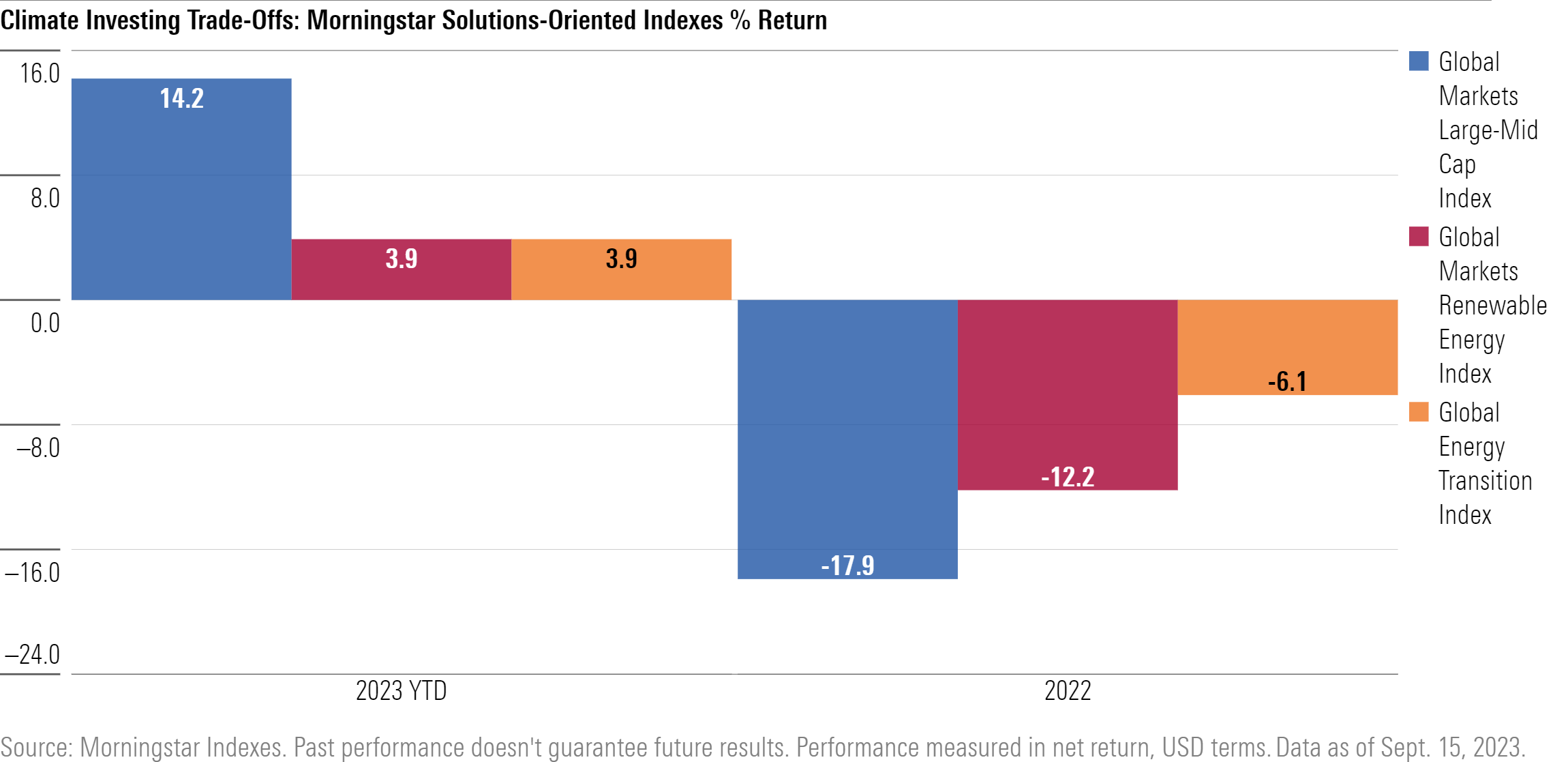 Dan Lefkovitz – Strategist, Morningstar Indexes:
"For climate-oriented investors, returns will depend on the approach and the biases inherent to the strategy. Low carbon, fossil fuel-free, and low-ESG-risk approaches can hew closely to the market and tend to exhibit a growth bias with higher tech exposure. Renewables, green technologies, and impact-oriented investments, on the other hand, tend to be far more focused, can deviate further from the market and are generally more volatile. On the plus side, these strategies are more impact-aligned and hold up better during tech crashes."
---
©2023 Morningstar. All Rights Reserved. The information, data, analyses and opinions contained herein (1) include the proprietary information of Morningstar, (2) may not be copied or redistributed, (3) do not constitute investment advice offered by Morningstar, (4) are provided solely for informational purposes and therefore are not an offer to buy or sell a security, and (5) are not warranted to be correct, complete or accurate. Morningstar has not given its consent to be deemed an "expert" under the federal Securities Act of 1933. Except as otherwise required by law, Morningstar is not responsible for any trading decisions, damages or other losses resulting from, or related to, this information, data, analyses or opinions or their use. References to specific securities or other investment options should not be considered an offer (as defined by the Securities and Exchange Act) to purchase or sell that specific investment. Past performance does not guarantee future results. Before making any investment decision, consider if the investment is suitable for you by referencing your own financial position, investment objectives, and risk profile. Always consult with your financial advisor before investing.
Indexes are unmanaged and not available for direct investment.
Morningstar indexes are created and maintained by Morningstar, Inc. Morningstar® is a registered trademark of Morningstar, Inc.