In a year of bad news for global investors, investments linked to fundamental drivers of inflation – soaring prices for oil and natural resources – have enjoyed strong returns in 2022 according to new insight. In fact, indexes covering "upstream, "midstream" and downstream" aspects of energy production have all done well this year amid a global market downtown.
Beginning "upstream," the Morningstar Global Upstream Natural Resources Index, measuring companies involved earlier in the energy supply chain such as the extraction of oil, as well as resources like metals, timber, and agricultural commodities, has risen more than 13% year-to-date. The Morningstar Global Oil and Gas Refining and Marketing Index, which is comprised of companies involved in "downstream" activities in the energy space where raw materials are delivered to the end consumer, is up nearly 17% this year. And the Morningstar MLP Composite Index, which tracks master limited partnerships involved in "midstream" energy activities such as transportation, storage and processing, has risen an eye-popping 34.5% in 2022.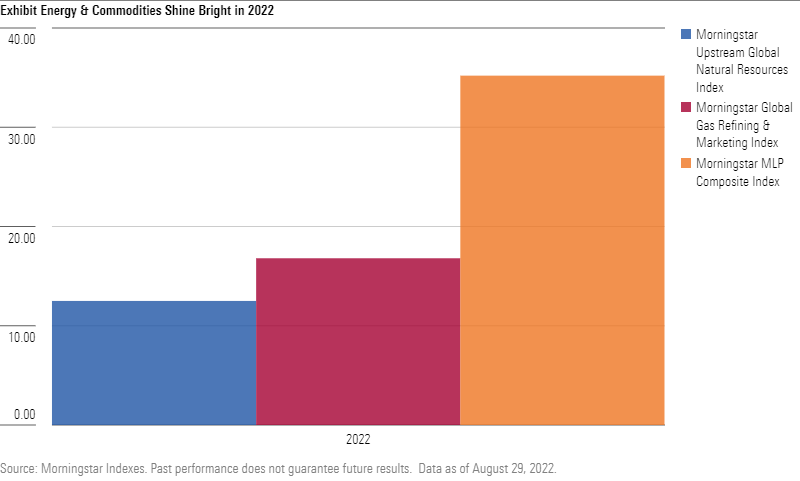 Dan Lefkovitz – Index Strategist, Morningstar
"Investors may consider looking at energy and commodities as a portfolio diversifier, particularly in inflationary markets, yet these asset classes may be neglected after years of technology stock dominance. Even after a rebound in 2021, the energy sector still only represented 3.5% of the Morningstar Global Markets Index, coming into 2022, down from 11% in 2011. So, investors holding a market portfolio have little exposure. Meanwhile, according to Morningstar Direct Asset Flows, commodities-focused funds and ETFs hold just $342 billion in investor assets globally, compared with $24 trillion in equities funds and $10.4 trillion in fixed income."
To speak with Dan Lefkovitz, reach out to Tim Benedict at tim.benedict@morningstar.com or (203) 339-1912.
This article is also available in Japanese.
---
©2022 Morningstar. All Rights Reserved. The information, data, analyses and opinions contained herein (1) include the proprietary information of Morningstar, (2) may not be copied or redistributed, (3) do not constitute investment advice offered by Morningstar, (4) are provided solely for informational purposes and therefore are not an offer to buy or sell a security, and (5) are not warranted to be correct, complete or accurate. Morningstar has not given its consent to be deemed an "expert" under the federal Securities Act of 1933. Except as otherwise required by law, Morningstar is not responsible for any trading decisions, damages or other losses resulting from, or related to, this information, data, analyses or opinions or their use. References to specific securities or other investment options should not be considered an offer (as defined by the Securities and Exchange Act) to purchase or sell that specific investment. Past performance does not guarantee future results. Before making any investment decision, consider if the investment is suitable for you by referencing your own financial position, investment objectives, and risk profile. Always consult with your financial advisor before investing.
Indexes are unmanaged and not available for direct investment.
Morningstar indexes are created and maintained by Morningstar, Inc. Morningstar® is a registered trademark of Morningstar, Inc.