Morningstar Global Sustainable Activities Involvement Indexes
Targeting exposure to companies whose economic activities address the world's social and environmental challenges
Aligning for impact
From climate change to diversity to good governance practices, investors of all types are beginning to consider the outcomes of their investments. The Morningstar Global Sustainable Activities Involvement Indexes enable targeted exposure to important global themes like climate action, human development, resource security, healthy ecosystems, and basic needs.
Targeting impact with indexes
Analysis of the Morningstar Global Sustainable Activities Indexes provides insight into the composition and behavior of sustainable investments. Their selective approach results in exposure that is highly distinctive, diverging meaningfully not just from the broad market portfolio, but also from an index screened on the basis is of ESG risk.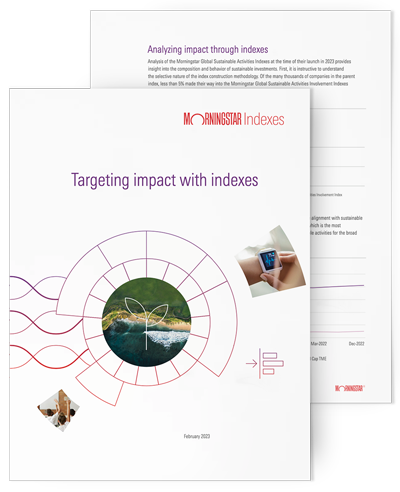 Choose from a selection of individual- and multi-theme indexes or build a custom solution based on any combination of SDGs, themes, or revenue thresholds.
Discover Morningstar Indexes' entire suite of ESG index solutions
About Morningstar Indexes
Morningstar Indexes was built to keep up with the evolving needs of investors—and to be a leading-edge advocate for them. Our rich heritage as a transparent, investor-focused leader in data and research uniquely equips us to support individuals, institutions, wealth managers and advisors in navigating investment opportunities across all major asset classes, styles and strategies.
From assessing risk and return with traditional benchmarks to helping investors effectively incorporate ESG objectives into their investment process, our range of index solutions spans an investment landscape as diverse as investors themselves. We help investors answer today's increasingly complex questions so that they can more easily reach tomorrow's goals.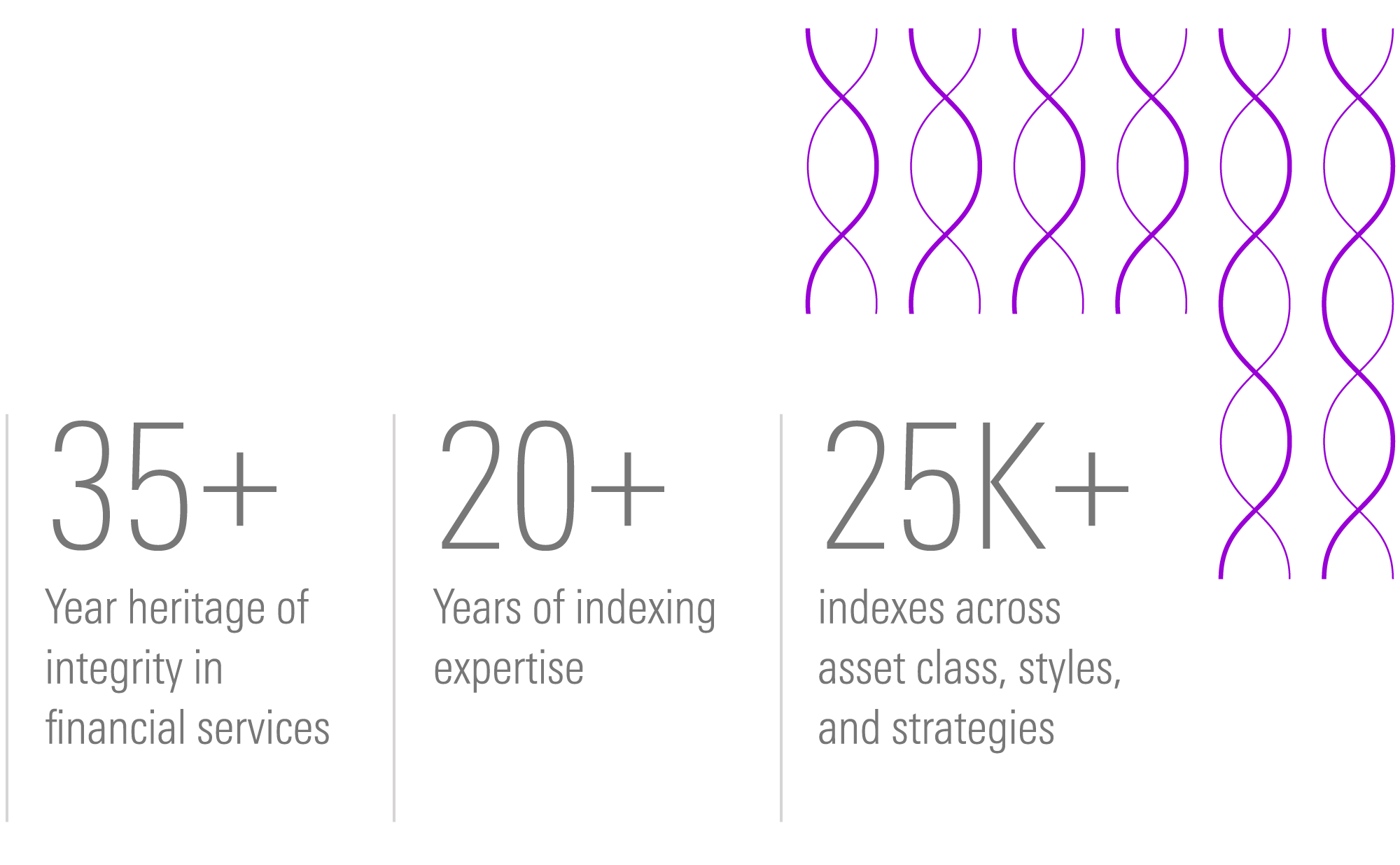 About Morningstar Sustainalytics
Morningstar Sustainalytics is a leading ESG research, ratings and data firm that supports investors around the world with the development and implementation of responsible investment strategies. For nearly 30 years, the firm has been at the forefront of developing high-quality, innovative solutions to meet the evolving needs of global investors. Today, Morningstar Sustainalytics works with hundreds of the world's leading asset managers and pension funds who incorporate ESG and corporate governance information and assessments into their investment processes. The firm also works with hundreds of companies and their financial intermediaries to help them consider sustainability in policies, practices, and capital projects. With 17 offices globally, Morningstar Sustainalytics has more than 1,800 staff members, including more than 800 analysts with varied multidisciplinary expertise across more than 40 industry groups.