The Takeaway
Several macro dynamics were at play, such as stubbornly high inflation, a potential economic recession, rising bond yields, and tightening of central bank policy rates, with all style indexes closing in positive territory. Across the globe, value fared better than growth.
Relative to its value counterpart, the Morningstar US Large Broad Growth Index's underperformance in fourth-quarter 2022 was predicated primarily on intra-sector selection effects, particularly within the consumer cyclical and technology sectors.
---
From a style-agnostic perspective during the fourth quarter of 2022, mid-cap US stocks outpaced the small and large counterparts, and value performed much better than growth across all segments predominantly due to receding inflation. Similarly, in emerging markets and developed markets outside the US, value stocks outpaced their growth counterparts.
US Large Broad Growth being overweight in the technology and consumer cyclical sectors, along with being underweight in financial services, were the most notable sector tilts that contributed to underperformance in large-cap growth stocks in the US. These stocks stumbled as a result of increases in high inflation, rising policy rates, decreases in ad revenue, restrictions on user tracking, and increases in redundant hiring costs.
Sector tilts and increases in exposure to healthcare and financial services sectors with major stock turnover was seen across most broad style indexes and were more pronounced during this reconstitution. The quarter witnessed multiple IPOs and acquisitions affecting the global portfolio, the most notable being Twitter, Warner Bros, Citrix.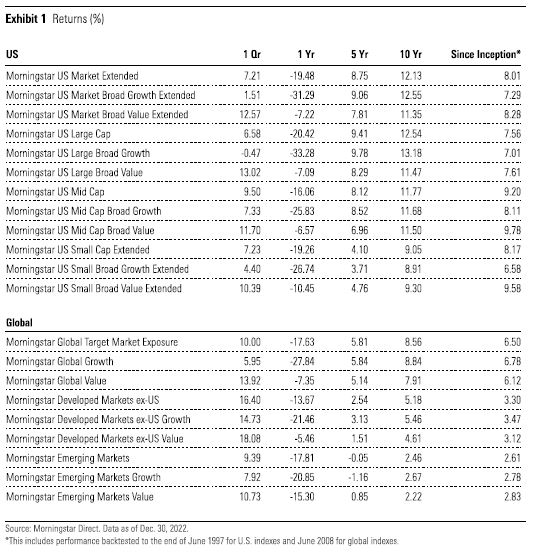 ---
©2023 Morningstar. All Rights Reserved. The information, data, analyses and opinions contained herein (1) include the proprietary information of Morningstar, (2) may not be copied or redistributed, (3) do not constitute investment advice offered by Morningstar, (4) are provided solely for informational purposes and therefore are not an offer to buy or sell a security, and (5) are not warranted to be correct, complete or accurate. Morningstar has not given its consent to be deemed an "expert" under the federal Securities Act of 1933. Except as otherwise required by law, Morningstar is not responsible for any trading decisions, damages or other losses resulting from, or related to, this information, data, analyses or opinions or their use. References to specific securities or other investment options should not be considered an offer (as defined by the Securities and Exchange Act) to purchase or sell that specific investment. Past performance does not guarantee future results. Before making any investment decision, consider if the investment is suitable for you by referencing your own financial position, investment objectives, and risk profile. Always consult with your financial advisor before investing.
Indexes are unmanaged and not available for direct investment.
Morningstar indexes are created and maintained by Morningstar, Inc. Morningstar® is a registered trademark of Morningstar, Inc.