It has been a dismal first half for the global markets and global bonds are no exception, according to the recently published Global Markets Review. With more than a 15% decline for the Morningstar Global Treasury Bond Index and a 10% plus decline for the Morningstar US Core Bond Index, global bond investors have felt the pain just as acutely as equity investors in a year which has seen very few safe havens. At the same time, yields on both indexes more than doubled in six months due to inflation, interest rate hikes and global monetary tightening.
Yet global monetary policy activity may be driving a changing tide for global sovereign debt performance, according to new insight. Following an ongoing series of rate hikes by the US Federal Reserve, the ECB surprised investors last week with a larger than expected 50 basis point rate hike, its first rate hike in more than a decade. All eyes are back on the US Fed this week as it announces its latest rate hike, another 75 basis points largely as expected. In this environment, we've seen global bond indexes rally in recent weeks as bond prices go up and yields begin to retreat as investors seek safety amid hawkish global central bank activity and a rising probability of a recession. Month to date, all major Morningstar Treasury Bond indexes are in positive territory.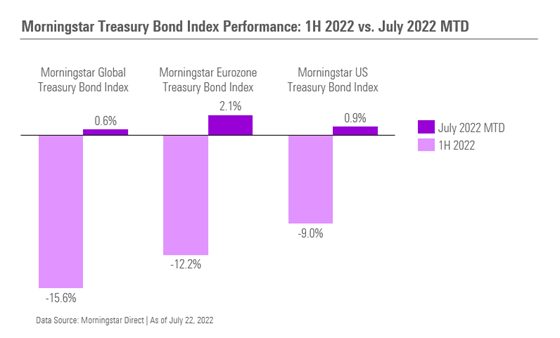 Katie Binns, Director, Fixed Income, Morningstar Indexes
"After a first half of the year with very little good news for global fixed income investors, the storyline could be changing for global sovereign bonds as we enter the second half of the year. The US Fed remains the key player in this storyline, of course, and all eyes will be on the FOMC and Chair Powell this week as they decide on their next interest rate move. And, while a soft landing for US and global markets is something that investors would like to see, it is not a guaranteed conclusion for Powell and company against a very challenging global market and economic backdrop."
To speak with Katie Binns, please reach out to Tim Benedict at tim.benedict@morningstar.com or (203) 339-1912.
---
©2022 Morningstar. All Rights Reserved. The information, data, analyses and opinions contained herein (1) include the proprietary information of Morningstar, (2) may not be copied or redistributed, (3) do not constitute investment advice offered by Morningstar, (4) are provided solely for informational purposes and therefore are not an offer to buy or sell a security, and (5) are not warranted to be correct, complete or accurate. Morningstar has not given its consent to be deemed an "expert" under the federal Securities Act of 1933. Except as otherwise required by law, Morningstar is not responsible for any trading decisions, damages or other losses resulting from, or related to, this information, data, analyses or opinions or their use. Past performance does not guarantee future results. Before making any investment decision, consider if the investment is suitable for you by referencing your own financial position, investment objectives, and risk profile. Always consult with your financial advisor before investing. High Yield Investments commonly known as "junk bonds" or "high-yield securities," may be subject to increased interest, credit, and liquidity risks.
Diversification does not ensure a profit or protect against a loss.
Morningstar indexes are created and maintained by Morningstar, Inc. Morningstar® is a registered trademark of Morningstar, Inc. Indexes are not available for direct investment.