There is currently a strong case to be made for US investors to combat their "home country bias" and invest globally, according to new research from Morningstar Indexes. In fact, there are several compelling reasons for investors to consider non-US stocks for portfolio diversification as well as investment opportunity, according to Morningstar Indexes Strategist Dan Lefkovitz.
"The US share of the Morningstar Global Markets Index is roughly 60%, high by historical standards and far out of proportion to its 25% share of the global economy," said Lefkovitz. "The US equity market looks high-priced, top-heavy and low-yielding compared to global counterparts. The debt ceiling, a long run of strength for the US dollar, and potential recession are further reasons it makes sense to maintain global exposure."
Lefkovitz goes on to describe a US equity market that has dominated global equities for the 15 years since the global financial crisis of 2007-2009, primarily driven by a handful of technology-oriented companies like Apple, Microsoft, Amazon, Alphabet, Nvidia and Tesla.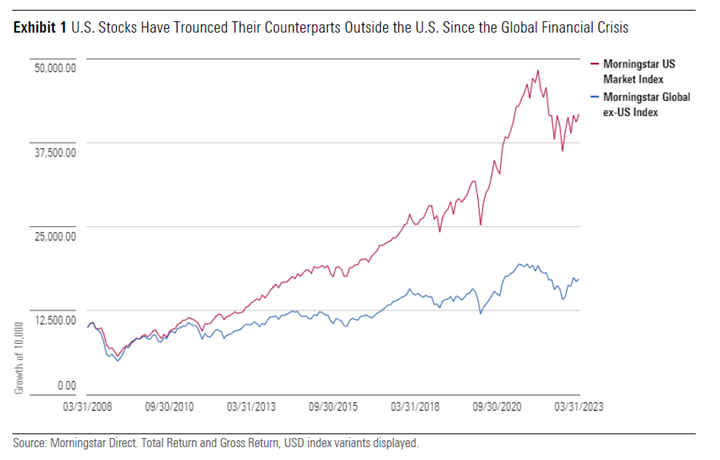 "After years of US market dominance, many investors have forgotten the benefits of global exposure. But markets are cyclical, currencies fluctuate, and valuation differentials can create opportunity. International stocks are looking exceptionally cheap relative to US stocks right now," said Lefkovitz. "And dividend yields are also far higher in equity markets outside the US."
---
©2023 Morningstar. All Rights Reserved. The information, data, analyses and opinions contained herein (1) include the proprietary information of Morningstar, (2) may not be copied or redistributed, (3) do not constitute investment advice offered by Morningstar, (4) are provided solely for informational purposes and therefore are not an offer to buy or sell a security, and (5) are not warranted to be correct, complete or accurate. Morningstar has not given its consent to be deemed an "expert" under the federal Securities Act of 1933. Except as otherwise required by law, Morningstar is not responsible for any trading decisions, damages or other losses resulting from, or related to, this information, data, analyses or opinions or their use. References to specific securities or other investment options should not be considered an offer (as defined by the Securities and Exchange Act) to purchase or sell that specific investment. Past performance does not guarantee future results. Before making any investment decision, consider if the investment is suitable for you by referencing your own financial position, investment objectives, and risk profile. Always consult with your financial advisor before investing.
Indexes are unmanaged and not available for direct investment.
Morningstar indexes are created and maintained by Morningstar, Inc. Morningstar® is a registered trademark of Morningstar, Inc.