Despite a significant underweight in the "Magnificent Seven" relative to the Morningstar US Market Index, the Morningstar Wide Moat Focus Index has outperformed its parent benchmark by more than 5 percentage points year-to-date as of September 5 with a 23.2% total return.
The Magnificent Seven refers to the basket of stocks including Tesla, Apple, Amazon, Nvidia, Microsoft, Alphabet and Meta Platforms which accounted for 62% of broad US equity market returns year-to-date through the end of August. Due to the equal-weighting methodology of the Morningstar Wide Moat Focus Index which gives the same importance to each constituent regardless of market cap, just 10.5% of the index was represented by the Magnificent Seven at the end of August. This is less than half of the Magnificent Seven's 21.4% weighing in the market-cap weighted Morningstar US Market Index.
The index has bucked the headwind of its underweight in the Magnificent Seven through favorable sector positioning and strong stock selection. Relative overweights to the Technology and Communications Services sectors have contributed to the index returns this year. In addition, the index has an overweight position in Meta Platforms, the second-best performer in the Magnificent Seven.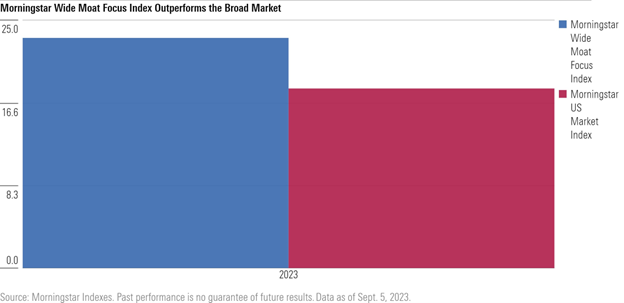 Andrew Lane, Director of Equity Research, Index Strategies at Morningstar:
"While being underweight the 'Magnificent Seven' has weighed on relative performance for the Morningstar Wide Moat Focus Index, we're pleased to see that a disciplined focus on finding companies with durable competitive advantages, or 'wide economic moats' and attractive valuation has more than overcome this headwind in 2023. Guided by the fundamental research of Morningstar equity analysts, overweight positions in the Technology and Communication Services sectors as well as favorable stock selection has helped the performance of the Morningstar Wide Moat Focus Index year-to-date."
Dave Sekera, Chief US Market Strategist, Morningstar Research Services:
"Coming into 2023, according to our valuations, six of the seven stocks that comprise the Magnificent Seven were significantly undervalued. These stocks have soared higher and, based on the sheer size of their market capitalizations, have accounted for the majority of broad market gains year to date. However, from a valuation standpoint, we think this main driver for the 2023 rally is running out of steam. Following this outperformance, only one stock (Alphabet) remains materially undervalued.
Looking forward, we expect broad market gains will be muted for the remainder of the year. With this basket of stocks no longer being undervalued, we expect any additional market gains to come from a much wider set of stocks that remain undervalued and have lagged the market index."
Brandon Rakszawski, Director of Product Management, VanEck ETFs:
"Maintaining an underweight to the Magnificent Seven, or whatever small group of stocks is dominating market returns at the time, can be a risk for any US equity strategy. That is why the Morningstar Wide Moat Focus Index's ability to outperform the broad market over long periods of time is so impressive. It has done so despite its consistent underweight to the small number of companies that often trade at lofty valuations."
For further insight on the US equity market, you can find Dave Sekera's recent market analysis here. For a new guide to the Morningstar Wide Moat Focus Index, read our new analysis piece, Equity Investing with a Moat Focus.
---
©2023 Morningstar. All Rights Reserved. The information, data, analyses and opinions contained herein (1) include the proprietary information of Morningstar, (2) may not be copied or redistributed, (3) do not constitute investment advice offered by Morningstar, (4) are provided solely for informational purposes and therefore are not an offer to buy or sell a security, and (5) are not warranted to be correct, complete or accurate. Morningstar has not given its consent to be deemed an "expert" under the federal Securities Act of 1933. Except as otherwise required by law, Morningstar is not responsible for any trading decisions, damages or other losses resulting from, or related to, this information, data, analyses or opinions or their use. Past performance does not guarantee future results. Before making any investment decision, consider if the investment is suitable for you by referencing your own financial position, investment objectives, and risk profile. Always consult with your financial advisor before investing.
Morningstar, Inc. is not affiliated with Van Eck. Van Eck's products are not sponsored, endorsed, sold or promoted by Morningstar, and Morningstar makes no representation regarding the advisability of investing in any Van Eck product.
Morningstar indexes are created and maintained by Morningstar, Inc. Morningstar® is a registered trademark of Morningstar, Inc.