After a dismal 2022 for Canadian fixed income investors, with the Morningstar Canada Core Bond Index falling more than 11% amid seven BOC interest rate hikes, 2023 is starting off on a more positive note.
The Morningstar Canada 1-5 Year Core Bond Index, which measures the performance of Canadian investment grade bonds with one to five year maturities, is up 1.6% in 2023. Its parent index, the Morningstar Core Bond Index, which includes investment grade Canadian bonds with maturities longer than one year, is also up, rising 4% so far in January (as of January 18).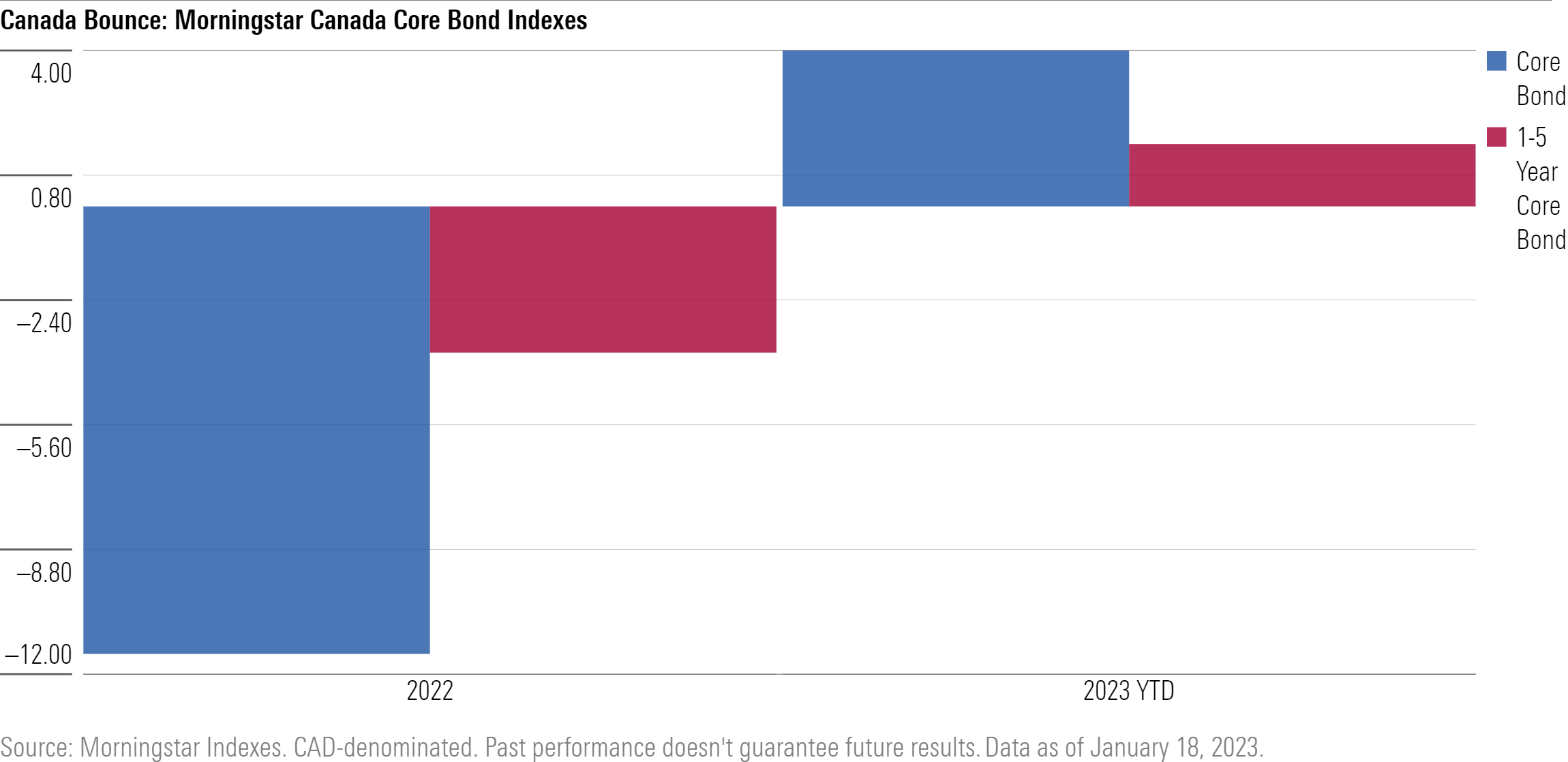 These index numbers may give Canadian investors reason for optimism, but is it just a blip or does it signal the start of a strong bond market for the year ahead?
Katie Binns – Director of Fixed Income & Multi-Asset Indexes, Morningstar:
"While still at historic highs, Canadian bond yields across the curve have fallen more than 40 basis points since the start of the year, helping to fuel the January bond rally. As we approach upcoming rate decisions by the BOC and FOMC in the coming weeks, recent data shows optimism that the bulk of rate hikes may be behind us and inflation may finally be coming under control. Investors will need to watch these upcoming announcements closely for signs on whether this rally may continue."
David Stephenson – Director, ETF Strategy, CIBC Asset Management:
"After a challenging 2022 for fixed income, the silver lining for Canadian investors is higher yields, and you don't necessarily need to move up the fixed income spectrum for income. Both Canadian aggregate and short term bonds are yielding more today (4%) than they have throughout much of the past decade. For Canadian investors, recent Canada bond market performance helps underscore the importance of owning multiple asset classes and exposures, including fixed income, to help reduce overall portfolio risk while increasing potential returns across market cycles."
For additional insights on the Canadian equity and fixed income markets in a recent perspective, check out a recent Morningstar Indexes Perspective.
---
©2023 Morningstar. All Rights Reserved. The information, data, analyses and opinions contained herein (1) include the proprietary information of Morningstar, (2) may not be copied or redistributed, (3) do not constitute investment advice offered by Morningstar, (4) are provided solely for informational purposes and therefore are not an offer to buy or sell a security, and (5) are not warranted to be correct, complete or accurate. Morningstar has not given its consent to be deemed an "expert" under the federal Securities Act of 1933. Except as otherwise required by law, Morningstar is not responsible for any trading decisions, damages or other losses resulting from, or related to, this information, data, analyses or opinions or their use. References to specific securities or other investment options should not be considered an offer (as defined by the Securities and Exchange Act) to purchase or sell that specific investment. Past performance does not guarantee future results. Before making any investment decision, consider if the investment is suitable for you by referencing your own financial position, investment objectives, and risk profile. Always consult with your financial advisor before investing.
Indexes are unmanaged and not available for direct investment.
Morningstar indexes are created and maintained by Morningstar, Inc. Morningstar® is a registered trademark of Morningstar, Inc.