Contrary to investor perceptions, the U.S. doesn't hold a monopoly on late-stage venture capital, or "unicorn" companies. And, in fact, some of the largest unicorns currently reside in Asia, according to recent analysis based on the Morningstar PitchBook Global Unicorn Indexes.
The Morningstar PitchBook Global Unicorn Index, which measures the performance of privately held, late-stage venture capital-backed global companies with valuations of at least $1 billion, shows more than 90% of unicorns currently based in the US, Asia and Europe, with more than 50% of global unicorns based in the US. Yet, notably, while Asia unicorns represent 28% of global unicorns by count, they comprise more than 35% of the weight of the Index.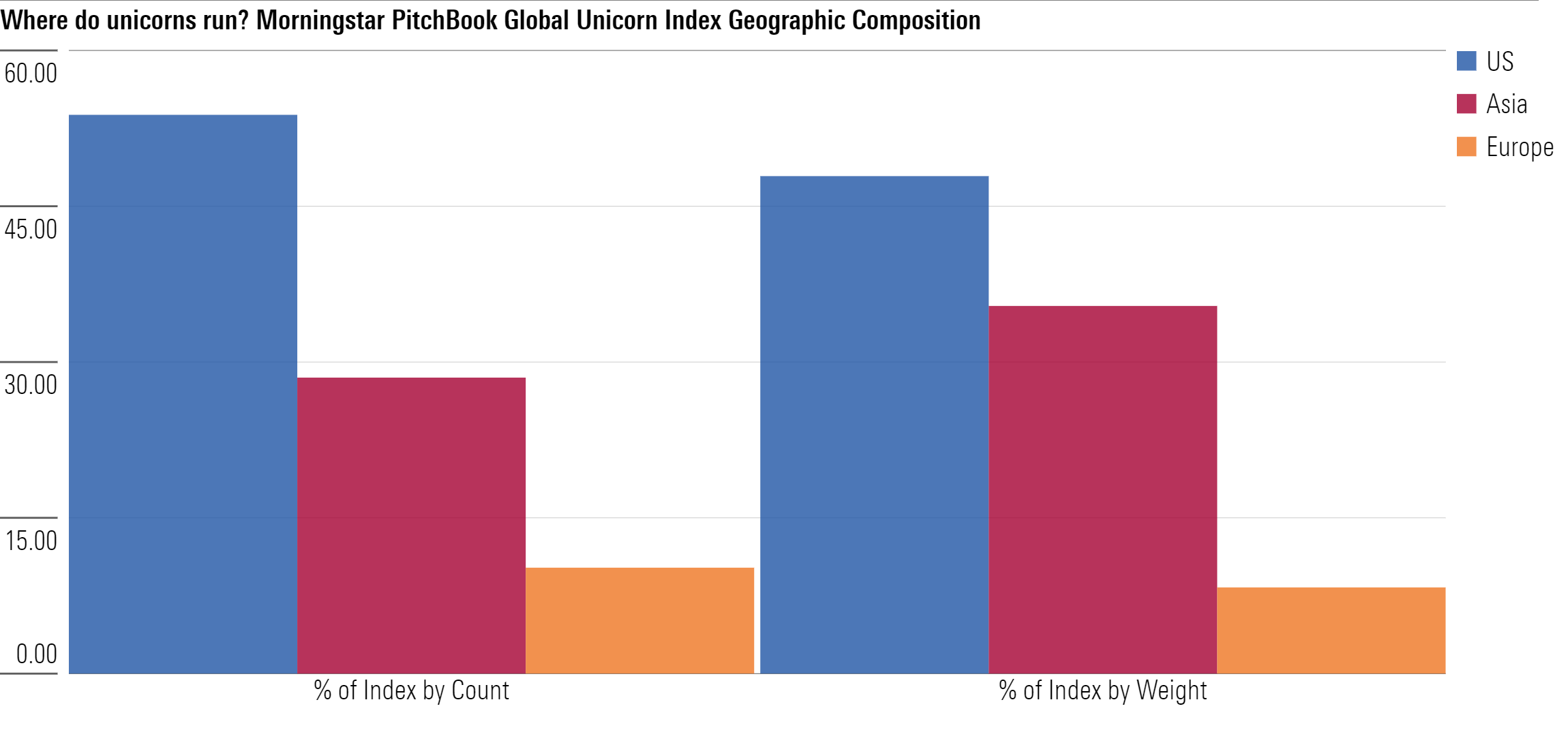 Contributing to the high relative weighting for Asia within the global unicorn index are Shien, ByteDance and Ant Group, all based in China. On the other side of the world, some of the larger Silicon Valley-based constituents within the index include SpaceX and Stripe.
Dan Cook, Head of Quantitative Research, PitchBook
"Although unicorn formations have slowed in 2022, we've seen 133 new companies earn their unicorn status outside of the U.S. this year, a number second only to the record set in 2021. This has been driven by both the maturation of international startup ecosystems, as well as legacy U.S.-based investors turning their attention abroad."
Sanjay Arya, Head of Innovation, Morningstar Indexes
"Private capital markets have grown substantially in the last decade, with more companies staying private longer or pursuing less traditional funding strategies. The growing stable of 'unicorns,' or VC-backed companies valued at $1 billion or more, around the world has expanded the opportunity set for investors. Our global unicorn indexes help provide more insight and transparency for investors into this expanding area of the global markets."
---
©2022 Morningstar. All Rights Reserved. The information, data, analyses and opinions contained herein (1) include the proprietary information of Morningstar, (2) may not be copied or redistributed, (3) do not constitute investment advice offered by Morningstar, (4) are provided solely for informational purposes and therefore are not an offer to buy or sell a security, and (5) are not warranted to be correct, complete or accurate. Morningstar has not given its consent to be deemed an "expert" under the federal Securities Act of 1933. Except as otherwise required by law, Morningstar is not responsible for any trading decisions, damages or other losses resulting from, or related to, this information, data, analyses or opinions or their use. Past performance does not guarantee future results. Before making any investment decision, consider if the investment is suitable for you by referencing your own financial position, investment objectives, and risk profile. Always consult with your financial advisor before investing.
Indexes are unmanaged and not available for direct investment.Back-tested strategies are created with the benefit of hindsight. As such, the strategies do not represent actual index changes and may not reflect the impact material economic and market factors had on the decision-making process for an index. Back-tested performance is hypothetical in nature, does not reflect actual results, and does not guarantee future results. Hypothetical performance returns are theoretical and for illustrative purposes only. Future performance can differ significantly from the back-tested performance shown.
Morningstar indexes are created and maintained by Morningstar, Inc.Morningstar® is a registered trademark of Morningstar, Inc. PitchBook was acquired by Morningstar in 2016 and now operates as an independent subsidiary.