The Takeaway
Rising interest rates are an unlikely cause of dividend-stock underperformance in 2023. The historical relationship between rates and dividend payers is mixed. In 2022, for example, dividend-paying stocks outperformed the broad equity market even as rates rose dramatically in the US and across the globe.
The equity income section of the market has suffered from lack of exposure to artificial intelligence-related businesses (bots) and too much exposure to underperforming banks, biopharma stocks, and the energy (oil barrels) sector.
Morningstar's forward-looking equity research views the technology sector as overvalued and several dividend-rich sections of the market as attractively valued. Dividend-paying stocks have underperformed for stretches before, but resilience during downturns sets them up for long-term success.
---
Equities have logged solid gains in 2023. After the aggressive monetary policy response to stubbornly high inflation sent markets diving in 2022, stocks have clawed their way back this year. The Morningstar Global Markets Index, a broad gauge of developed and emerging-market equities, is up roughly 16% for the year through July 14, 2023, while the Morningstar US Market Index, has advanced more than 18%.
What then explains the poor showing for dividend paying stocks? Why is the Morningstar Dividend Yield Focus Index in negative territory in 2023? Why are Morningstar dividend-growth indexes lagging so far behind the overall market? Is the long-term case for dividend-paying stocks still intact?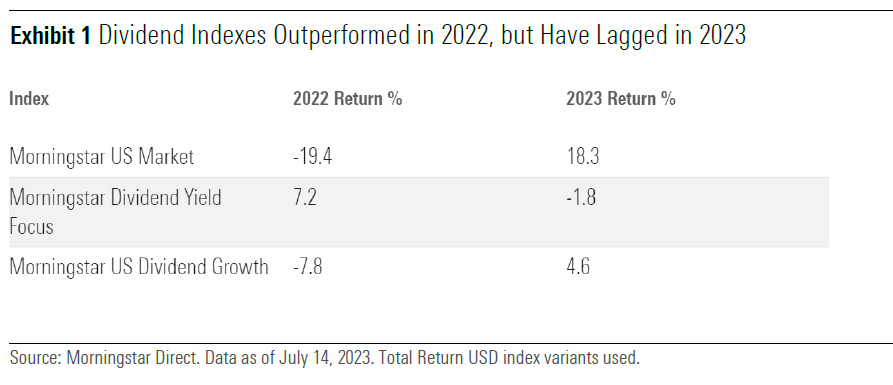 The conventional wisdom holds that when interest rates go up, the equity income section of the market goes down. Higher rates lift yields on bonds and cash deposits, making dividends less attractive for income investors. In practice, though, interest rates have an unpredictable impact on dividend payers. Morningstar Indexes has examined the performance of dividend-paying stocks under different rate regimes across several equity markets. We observed no clear relationship between interest-rate regimes and the performance of dividend payers in Australia, Germany, Japan, the United Kingdom, or the United States.
Dividend stock underperformance in 2023 has more to do with the dynamics of a narrow, tech-led equity market. Companies perceived to be benefitting from artificial intelligence have soared in 2023, but few of these stocks are dividend rich. Meanwhile, the energy, financial services, and healthcare sectors, which are all generous in returning cash to shareholders, have struggled.
Long-time dividend investors know that periods of underperformance come with the territory. Dividend payers may lag during market environments led by hot growth stocks, but in down periods like 2022 and 2018, they show resilience. Limiting losses is a key to long-term investment success. Meanwhile, equity income investors get paid to wait for performance to turn around.
---
©2023 Morningstar. All Rights Reserved. The information, data, analyses and opinions contained herein (1) include the proprietary information of Morningstar, (2) may not be copied or redistributed, (3) do not constitute investment advice offered by Morningstar, (4) are provided solely for informational purposes and therefore are not an offer to buy or sell a security, and (5) are not warranted to be correct, complete or accurate. Morningstar has not given its consent to be deemed an "expert" under the federal Securities Act of 1933. Except as otherwise required by law, Morningstar is not responsible for any trading decisions, damages or other losses resulting from, or related to, this information, data, analyses or opinions or their use. References to specific securities or other investment options should not be considered an offer (as defined by the Securities and Exchange Act) to purchase or sell that specific investment. Past performance does not guarantee future results. Before making any investment decision, consider if the investment is suitable for you by referencing your own financial position, investment objectives, and risk profile. Always consult with your financial advisor before investing.
Indexes are unmanaged and not available for direct investment.
Morningstar indexes are created and maintained by Morningstar, Inc. Morningstar® is a registered trademark of Morningstar, Inc.