The Takeaway
When Intel cut its dividend by 66% in February 2023 it demonstrated a fundamental truth about equity income investing. Healthy payouts are often found in unhealthy sectors, industries, and securities, where business challenges have weighed on share prices. Screening for dividend durability can help investors avoid yield traps like Intel.
Screens used by the Morningstar Dividend Yield Focus Indexes have for many years helped investors avoid dividend cutters like Intel. The Morningstar Economic Moat Rating and Distance to Default measure have effectively anticipated dividend durability–globally.
---
In February 2023, Intel cut its quarterly dividend from $0.365 per share to $0.125 after miserable earnings results. Intel joins a long list of one-time dividend champions to reduce, suspend, or eliminate shareholder payouts due to deteriorating fundamentals. Shell in 2020, GE in 2018, ConocoPhillips in 2016, and Citigroup in 2008 are other blue-chip dividend cutters.
Intel, whose trailing 12-month yield approached 6% at the time of the cut, illustrates a key risk for dividend investors. High yielders can be troubled companies with unsustainable payouts. Dividend cuts don't just affect cash flows for income investors, but are typically symptomatic of problems that have weighed on the share price. Intel closed February below $25 per share, down from nearly $64 in 2021–a bad investment from the perspective of total return as well as income.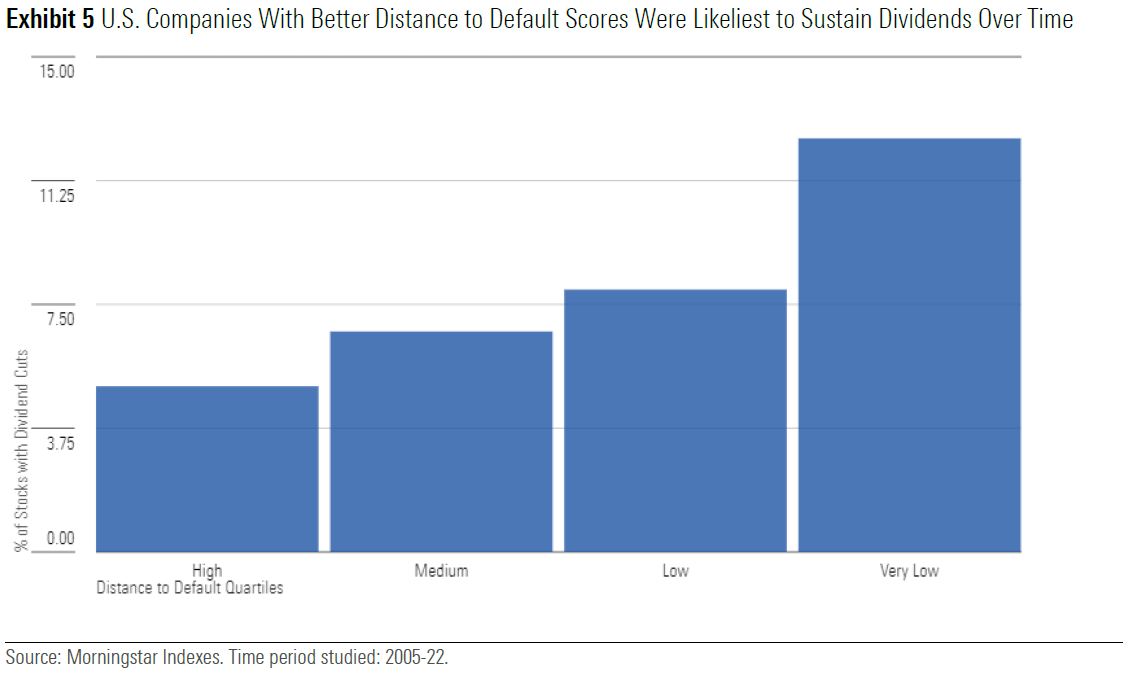 Many dividend index methodologies simply chase yield, which can lead to unintended risk, as the highest-yielding stocks may have weak or deteriorating fundamentals that could threaten their payouts. The Morningstar Dividend Yield Focus Indexes, for their part, aim to reduce risk by targeting stocks with attractive dividend yields and strong financial quality through screens that incorporate the Morningstar Economic Moat Rating and Distance to Default score. In this paper, we examine the Intel case study in the context of those screens and look at how well they have predicted dividend durability over time. We demonstrate that both in the US and across the globe, the screens have helped identify dividend cutters.
---
©2023 Morningstar. All Rights Reserved. The information, data, analyses and opinions contained herein (1) include the proprietary information of Morningstar, (2) may not be copied or redistributed, (3) do not constitute investment advice offered by Morningstar, (4) are provided solely for informational purposes and therefore are not an offer to buy or sell a security, and (5) are not warranted to be correct, complete or accurate. Morningstar has not given its consent to be deemed an "expert" under the federal Securities Act of 1933. Except as otherwise required by law, Morningstar is not responsible for any trading decisions, damages or other losses resulting from, or related to, this information, data, analyses or opinions or their use. References to specific securities or other investment options should not be considered an offer (as defined by the Securities and Exchange Act) to purchase or sell that specific investment. Past performance does not guarantee future results. Before making any investment decision, consider if the investment is suitable for you by referencing your own financial position, investment objectives, and risk profile. Always consult with your financial advisor before investing.
Indexes are unmanaged and not available for direct investment.
Morningstar indexes are created and maintained by Morningstar, Inc. Morningstar® is a registered trademark of Morningstar, Inc.