The Takeaway
In calendar year 2022, just 27% (36/134) of Morningstar's sustainability indexes outperformed their equivalents that don't incorporate ESG, down from 57% outperformance in 2021 and 75% in 2020.
Despite poor performance for sustainability indexes in 2022, the five-year numbers remain strong. From 2018 to 2022, 78% (99/127) of Morningstar sustainability indexes with five-year performance histories beat their equivalents. For the five-year period ending 2021, 80% had outperformed.
On the risk side, 70% (89/127) of Morningstar sustainability indexes with five-year histories lost less than their non-ESG equivalents during down periods between 2018 and 2022, as measured by the downside capture ratio. This number is down from the five-year period through 2021, when 88% of sustainability indexes had lost less in down markets.
---
Sustainable investments generally struggled in 2022. In the five years since Morningstar Indexes began tracking the risk/return profile of its sustainability range, 2022 was the worst performing calendar year. Market dynamics were highly unfavorable to investments centered around environmental, social, and governance (ESG) factors. The carbon-intensive energy and utilities sectors were the only areas of the equity market in positive territory in 2022, while technology stocks, which tend to face relatively few ESG risks, were deep in the red.
But sustainable investing is not monolithic. Approaches vary in motivation, implementation, and application. ESG-focused indexes focused on value stocks, dividend payers, and quality companies with low valuations outperformed the broad equity market in 2022, though they lagged their counterparts that do not incorporate ESG screens, partly due to less energy exposure.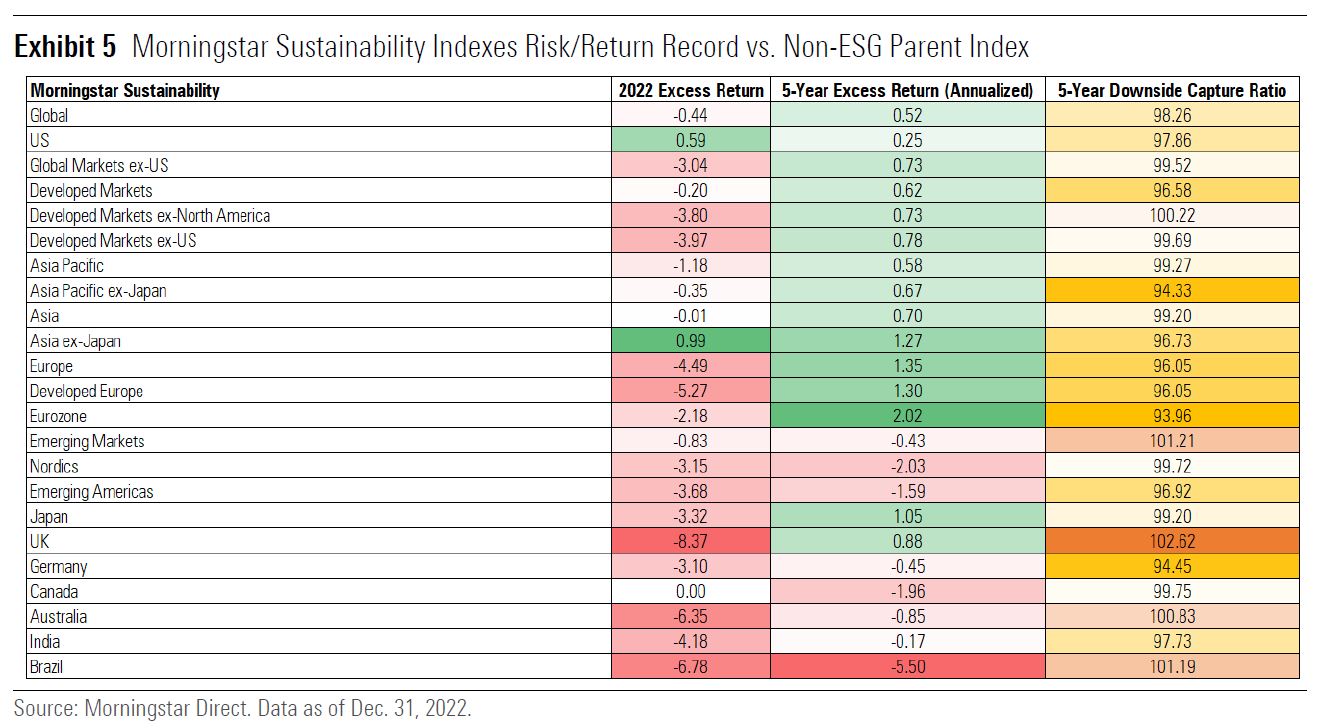 Meanwhile, indexes focused on gender equality and renewable energy outperformed, helped by below-market exposure to technology. The gender indexes were boosted by above-market weights in energy and defensive sectors like healthcare and consumer staples. Renewables-focused companies in the utilities and industrials areas held up well in 2022.
---
©2023 Morningstar. All Rights Reserved. The information, data, analyses and opinions contained herein (1) include the proprietary information of Morningstar, (2) may not be copied or redistributed, (3) do not constitute investment advice offered by Morningstar, (4) are provided solely for informational purposes and therefore are not an offer to buy or sell a security, and (5) are not warranted to be correct, complete or accurate. Morningstar has not given its consent to be deemed an "expert" under the federal Securities Act of 1933. Except as otherwise required by law, Morningstar is not responsible for any trading decisions, damages or other losses resulting from, or related to, this information, data, analyses or opinions or their use. References to specific securities or other investment options should not be considered an offer (as defined by the Securities and Exchange Act) to purchase or sell that specific investment. Past performance does not guarantee future results. Before making any investment decision, consider if the investment is suitable for you by referencing your own financial position, investment objectives, and risk profile. Always consult with your financial advisor before investing.
Indexes are unmanaged and not available for direct investment.
Morningstar indexes are created and maintained by Morningstar, Inc. Morningstar® is a registered trademark of Morningstar, Inc.