Morningstar Factor Indexes
Delivering Efficient, Strong Exposure to Industry-Standard Equity Factors
Key Features
Morningstar Factor Indexes
Constructed with transparent, rules-based methodology that aims to mitigate unintended sector biases and facilitate investability.
Efficient, strong factor exposure
Targets widely accepted factors that are backed by academic research.
Allows investors to tilt their portfolio toward a chosen factor with a smaller allocation.
May provide greater upside potential when the targeted factor is in favor.
Built for investability
High investment capacity (large- and mid-cap starting universe).
Turnover buffers to reduce transaction costs.
Sector, regional, and company-level constraints mitigate unintended biases.
Consistent framework across factors
Transparent, rules-based approach simplifies portfolio construction and factor allocation.
Provides a consistent, comparable measure of performance across factors.
Targeted Factors
Each of the factors has strong empirical and theoretical support.
Quality
Focus on stocks with strong profitability and balance sheets.
(Small) Size
Tilt toward smaller stocks, which have historically tended to outperform larger stocks.
Yield
Target stocks with higher shareholder distributions relative to their price.
Low volatility
Favor stocks with low past volatility, which have historically tended to have lower subsequent risk and better risk-adjusted performance.
Value
Target stocks trading at low multiples of fundamental measures like earnings, book value, cash flow and sales.
Momentum
Based on short-term performance persistence, targeting stocks with strong recent performance.
Analysis
Investable Factor Index Strategies
Indexes allow investors to research factors and, through passive investment strategies, access factor premiums in a transparent, efficient, and low-cost manner. But differences in selection rules, weighting schemes, and constraints mean that indexes targeting the same factor can diverge to a far greater extent than beta benchmarks representing the same market segment. Factor index design must strike a balance between purity of exposure and investability."

Read the paper to discover how the Morningstar Global Factor Indexes are designed to work in practice, not just in theory.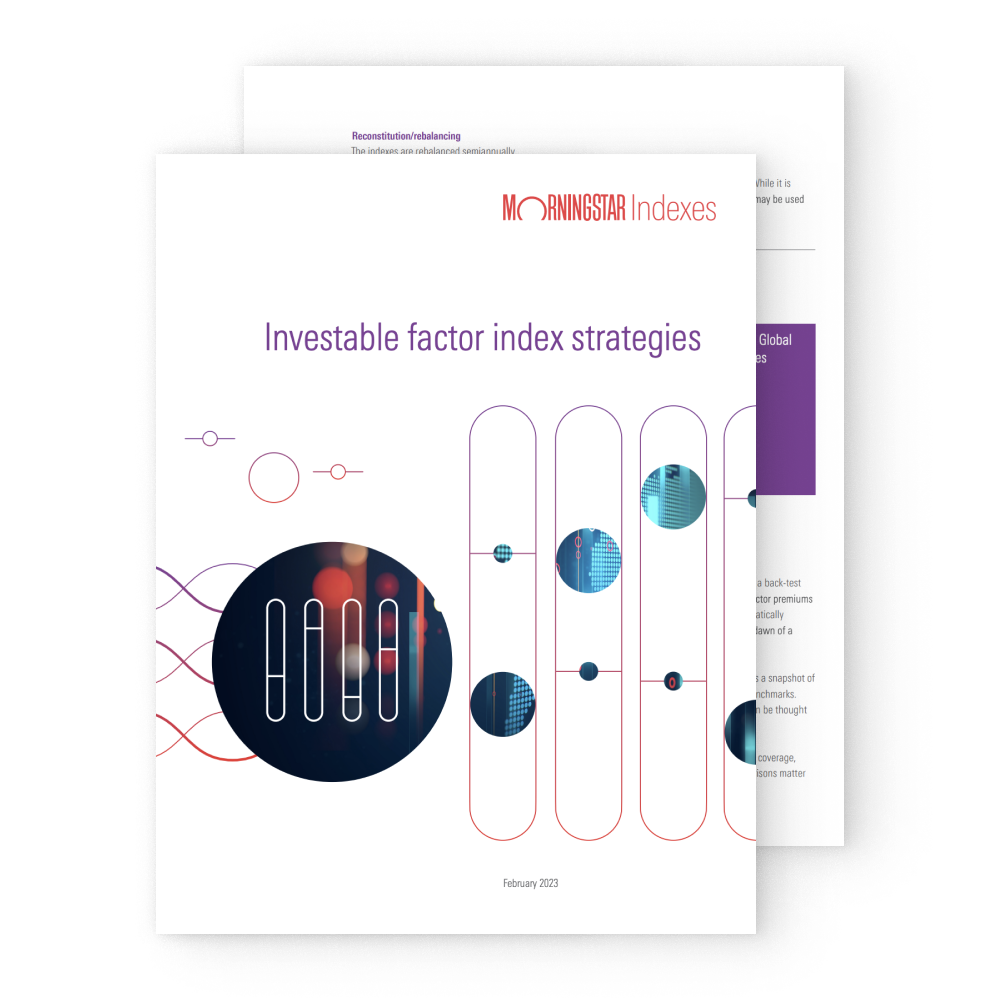 KEEP CONNECTED
Insights from the Leading Edge
We keep up with the evolving needs of investors in a way that only Morningstar can: by leveraging our heritage as a trusted provider of data and research.