Morningstar PitchBook Global Unicorn Industry Vertical Indexes
Delivering Insights into the Trends That Are Propelling Today's Innovation Economy
Morningstar PitchBook Global Unicorn Industry Vertical Indexes
The new economy is characterized by the advancement of technology, intellectual property, and a focus on knowledge-based industries. Areas such as financial technology, healthcare technology, and clean technology are emerging as new avenues for investments.
Derived from the Morningstar PitchBook Global Unicorn Index, the industry vertical indexes are designed to enhance investors' ability to identify, track and better understand compelling venture capital investment segments.
PitchBook Analyst-Curated Classifications
The Morningstar PitchBook Global Unicorn Industry Vertical Indexes represent the following PitchBook analyst-curated classifications:
| | | | |
| --- | --- | --- | --- |
| | | | |
| AgTech | Artificial Intelligence | BioPharma | Climate Tech |
| | | | |
| | | | |
| Cybersecurity | E-Commerce | Enterprise SaaS | FinTech |
| | | | |
| | | | |
| Health Tech | Mobility Tech | Supply Chain Tech | |
Analysis
A New Yardstick for the Innovation Economy
As the innovation economy continues to evolve, investors can gain valuable insights into the drivers of future economic growth by utilizing an industry classification system that mirrors the real-world economic ecosystem.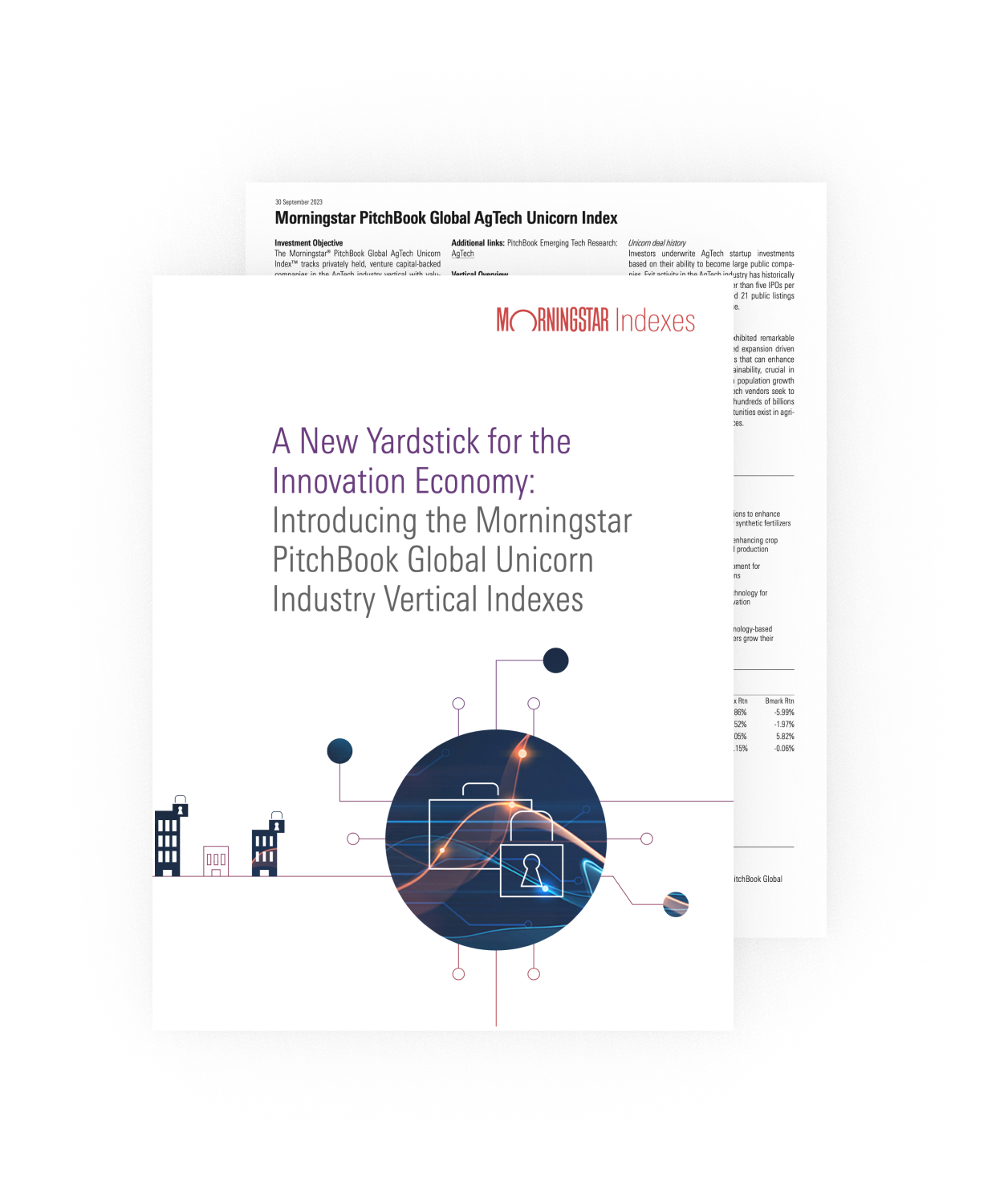 Index Applications
Enabling a Better Understanding of Emerging Investment Trends and Their Drivers
Market insights
The indexes offer valuable information on specific market segments, emerging themes, and valuation trends. Investors can explore the fastest-growing segments and easily compare adjacent technologies to make smarter investment choices.
Benchmarking and performance measurement
For venture capital funds focused on emerging technologies, the indexes serve as clear benchmarks and performance measurement tools. They enhance understanding of market conditions, identify promising investment strategies, and aid in evaluating fund managers.
Thematic investing
The indexes provide a systematic approach to managing portfolios focused on specific themes benefiting from secular growth drivers.
A window into the innovation economy
To better understand the impact and trends of the innovation economy, industry verticals and their corresponding indexes shed light on emerging technologies, capital flows, and exit activity. Examining these indicators offers valuable insights into the future of the economy.
PitchBook is a research firm and financial data provider that empowers global capital market professionals to win what's next. We collect and analyze information on the entire investment and business lifecycle. Our data, research and insights are available through our in-depth reports, industry news, and robust platform.
KEEP CONNECTED
Insights from the Leading Edge
We keep up with the evolving needs of investors in a way that only Morningstar can: by leveraging our heritage as a trusted provider of data and research.