Amid a turbulent start to 2022 for global equity markets, value-oriented stocks proved more durable than growth across the board, according to new insight from the Morningstar Indexes Quarterly Style Monitor.
According to the latest version of this report based on the Morningstar Global Style Indexes, the Russia-Ukraine conflict and related market anxieties drove a flight to safety across all global asset classes. Of particular note, US large-cap value outperformed large-cap growth by nearly 700 basis points during the quarter and value also outpaced growth for the mid- and small-cap segments. Outside the US, the Morningstar Developed Markets ex-US Value Index posted the only positive return among the Morningstar Global Style Indexes during the first quarter.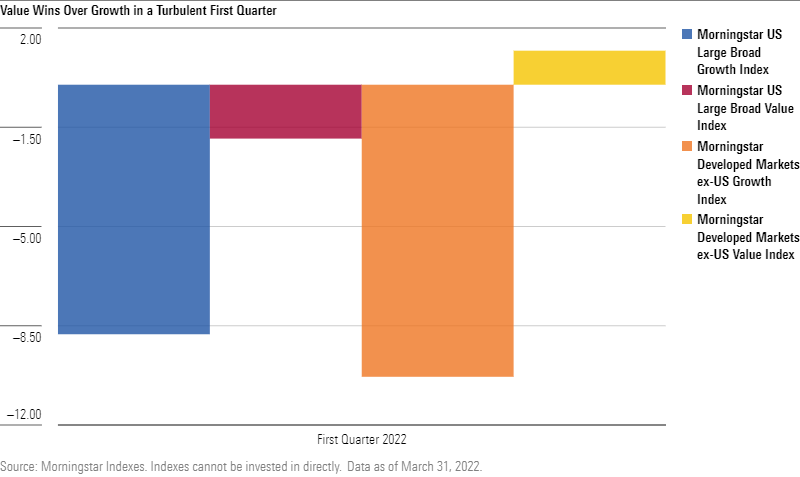 Nick Johnson – CFA, Product Manager, Morningstar Indexes:
"Even as the discourse around value versus growth, and style investing more broadly, has become increasingly crowded, the Broad Style Indexes continue Morningstar's rich history of decluttering the noise for investors. While the first quarter was a rough one for most market segments, value posted its most decisive win in years, outperforming growth across the size spectrum, which is certain to provide fodder for value proponents in the perennial style debate."
Andrew Ang, Managing Director, Head of Factors, Sustainable & Solutions, BlackRock Systematic:
"This is the comeback of value—with a strong Q1 performance of value beating growth continuing the value factor outperformance from 2021. Investors have pivoted to focusing on actual cashflows companies are generating now. In close to a century of data, value has historically outperformed in higher inflation regimes. This means there is still a lot of room potentially left for value to run as value remains cheap, as we find ourselves in a period of high inflation, rising rates, and the US economy firmly set on the reopening trajectory."
If you have any questions or would like to speak with Nick Johnson, please reach out to Tim Benedict at tim.benedict@morningstar.com or (203) 339-1912.