INDEX INSIGHTS
Pockets of Opportunity
Selectivity will help investors navigate a pricey U.S. equity market in 2022
After another year of strong returns for U.S. equities in 2021, Morningstar Indexes believes a selective investment approach makes sense in the face of elevated valuations.
Dan Lefkovitz – Morningstar Indexes Strategist:
"U.S. equities have resumed their climb in 2021 as evidenced by a 24% rise for the Morningstar US Market Index through December 22. And on the back of 21% and 31.2% returns for the Index in 2020 and 2019, respectively, investors should be cautious and concerned about valuations as we go into the new year. Opportunities do exist, however, for those who are selective and look for competitively positioned companies trading at relatively attractive valuations."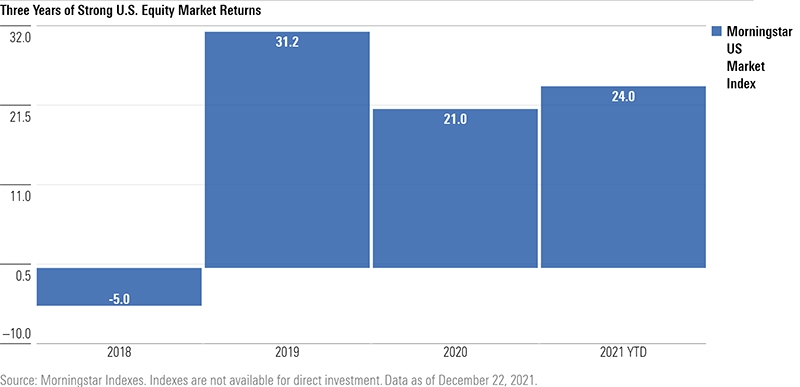 Lefkovitz sees pockets of opportunity today across a range of U.S. sectors as highlighted by the Morningstar® Wide Moat Focus Index, which provides exposure to companies with Morningstar® Economic Moat™ Ratings of wide, or durable competitive advantage, that are trading at relatively attractive valuations as determined by independent research conducted by Morningstar Equity Research.
Among the constituents of the Index, Lefkovitz points out cloud computing provider Blackbaud (BLKB), Healthcare stalwart Merck (MRK), Financial Services player Wells Fargo (WFC) and Energy provider Cheniere Energy Inc. (LNG) as examples of companies with a durable competitive advantage trading at attractive valuations.
To speak with Dan Lefkovitz, contact Tim Benedict at (203) 339-1912 or tim.benedict@morningstar.com.
©2021 Morningstar. All Rights Reserved. The information, data, analyses and opinions contained herein (1) include the proprietary information of Morningstar, (2) may not be copied or redistributed, (3) do not constitute investment advice offered by Morningstar, (4) are provided solely for informational purposes and therefore are not an offer to buy or sell a security, and (5) are not warranted to be correct, complete or accurate. Morningstar has not given its consent to be deemed an "expert" under the federal Securities Act of 1933. Except as otherwise required by law, Morningstar is not responsible for any trading decisions, damages or other losses resulting from, or related to, this information, data, analyses or opinions or their use. References to specific securities or other investment options should not be considered an offer (as defined by the Securities and Exchange Act) to purchase or sell that specific investment. Past performance does not guarantee future results. Before making any investment decision, consider if the investment is suitable for you by referencing your own financial position, investment objectives, and risk profile. Always consult with your financial advisor before investing.
Morningstar indexes are created and maintained by Morningstar, Inc. Morningstar® is a registered trademark of Morningstar, Inc.