Index Insights
Morningstar Women's Empowerment Index Has Outperformed the US Equity Market in 2021
The Morningstar Women's Empowerment Index, which has recently celebrated its third birthday, has outperformed the broad US equity market in 2021 according to new analysis from Morningstar Indexes.
The Index, which provides exposure to leading US companies that have strong gender diversity policies as part of their corporate culture according to Equileap's Gender Equality Scorecard, rose 21.5% in 2021 as of August 27, as compared to a 20.2% return for the Morningstar US Market Index. One year (30.8%) and three year (18.1%) returns for the Index have also been strong.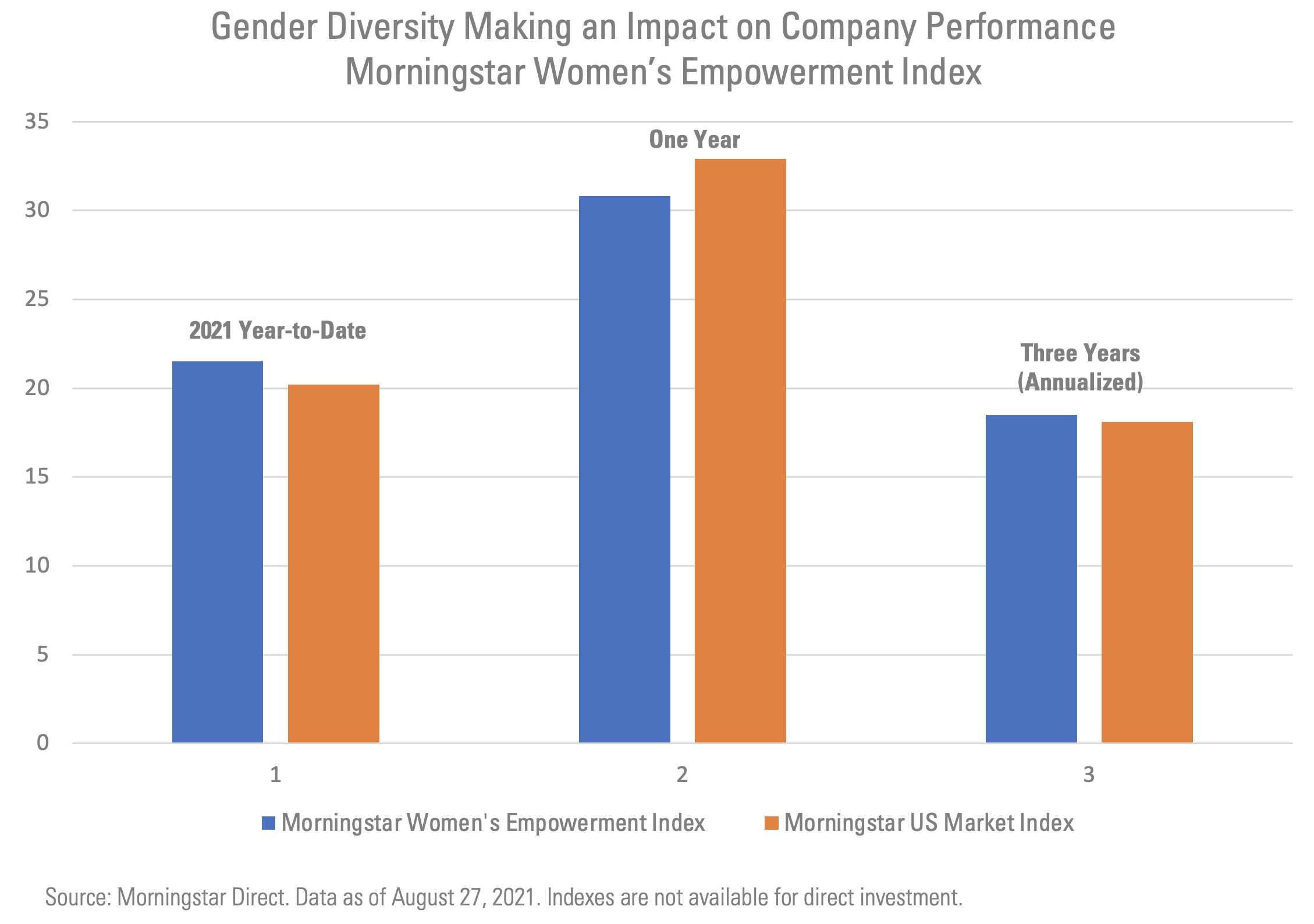 Dan Lefkovitz, Index Strategist, Morningstar:
"As more investors focus on corporate practices around gender diversity, the performance of the Morningstar Women's Empowerment Index supports the view that progressive policies can help boost returns. The Index focuses on leaders across economic sectors, such as Technology, Consumer-Cyclical and Healthcare."
Ethan Powell, CEO, Impact Shares:
"Performance for the Morningstar Women's Empowerment Index since inception helps support the idea that investors can invest in companies with strong diversity policies and enjoy competitive performance while remaining true to their values."
The Morningstar Women's Empowerment Index is part of the Morningstar Impact Indexes suite. To speak in more detail on this Index with our financial professionals, please reach out to Tim Benedict at tim.benedict@morningstar.com or (203) 339-1912.
©2021 Morningstar. All Rights Reserved. The information, data, analyses and opinions contained herein (1) include the proprietary information of Morningstar, (2) may not be copied or redistributed, (3) do not constitute investment advice offered by Morningstar, (4) are provided solely for informational purposes and therefore are not an offer to buy or sell a security, and (5) are not warranted to be correct, complete or accurate. Morningstar has not given its consent to be deemed an "expert" under the federal Securities Act of 1933. Except as otherwise required by law, Morningstar is not responsible for any trading decisions, damages or other losses resulting from, or related to, this information, data, analyses or opinions or their use. Past performance does not guarantee future results. Before making any investment decision, consider if the investment is suitable for you by referencing your own financial position, investment objectives, and risk profile. Always consult with your financial advisor before investing.
Morningstar indexes are created and maintained by Morningstar, Inc. Morningstar® is a registered trademark of Morningstar, Inc.