Index Insights
Morningstar Indexes and CIBC Asset Management Make the Case for Global Fixed Income Diversification to Canadian Investors
With the average yield on investment-grade Canadian bonds offering more than double the average yield of a basket of global investment grade bonds according to the Morningstar Canada Core Bond Index, Canadian investors may have little interest in globally diversifying their fixed income portfolio. Yet with next week's election, looming tapering plans and a potential for a rate hike before the end of 2022, there could be some volatility ahead.
According to new research from Morningstar Indexes, global bonds have been less volatile and more resilient during market downturns than Canadian bonds.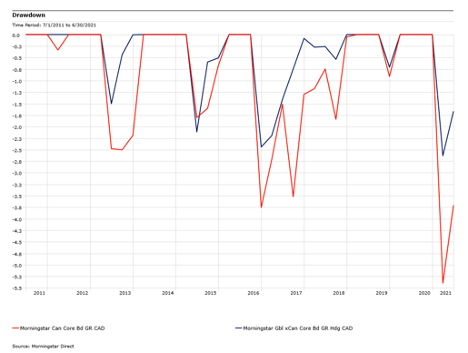 Dan Lefkovitz – Strategist, Morningstar Indexes
"Canadian investors would do well to look past short-term yields to the long-term portfolio diversification benefits global bonds have the potential to provide. In particular, when viewed through the lens of an historical drawdown comparison between the Morningstar Canada Core Bond Index and the Morningstar Global ex-Canada Core Bond CAD Index, there have been several periods during which global bonds have provided more downside protection than Canadian bonds."
David Stephenson – Director, ETF Strategy, CIBC Asset Management
"The Morningstar Global ex-Canada Core Bond CAD-Hedged Index provides Canadian investors with a comprehensive measure for the global aggregate bond market and can provide investment ideas to help diversify their fixed income portfolios. From an asset allocation perspective, the Index provides a home currency lens by hedging back to Canadian dollars, while tracking a broad global fixed income opportunity set including Treasuries, MBS, ABS and corporate bonds. There is also no Canadian dollar exposure, so this broad Index complements Canadian fixed income approaches by including a diverse set of countries and interest rate regimes."
For a copy of the new report, or to speak with Dan Lefkovitz, please contact Tim Benedict at (203) 339-1912 or tim.benedict@morningstar.com.
©2021 Morningstar. All Rights Reserved. The information, data, analyses and opinions contained herein (1) include the proprietary information of Morningstar, (2) may not be copied or redistributed, (3) do not constitute investment advice offered by Morningstar, (4) are provided solely for informational purposes and therefore are not an offer to buy or sell a security, and (5) are not warranted to be correct, complete or accurate. Morningstar has not given its consent to be deemed an "expert" under the federal Securities Act of 1933. Except as otherwise required by law, Morningstar is not responsible for any trading decisions, damages or other losses resulting from, or related to, this information, data, analyses or opinions or their use. Past performance does not guarantee future results. Before making any investment decision, consider if the investment is suitable for you by referencing your own financial position, investment objectives, and risk profile. Always consult with your financial advisor before investing.
Morningstar is not affiliated with CIBC Asset Management and does not sponsor, endorse, sell, promote or make any representation regarding the advisability of investing in any CIBC product.
Morningstar indexes are created and maintained by Morningstar, Inc. Morningstar® is a registered trademark of Morningstar, Inc.