Index Insights
How Interest Rate Ready is Your Low Volatility Index?
Interest rate risk is a topic on the minds of investors amid this week's meeting of the Federal Open Market Committee (FOMC) and growing concern about potential Fed tightening. And, while low volatility indexes can be a useful tool to manage portfolio risk through a range of market cycles, investors should be aware that differences in low volatility index construction can make a difference in performance during rising rate environments.
Morningstar Indexes recently compared performance for the S&P 500 Low Volatility Index with the Morningstar US Minimum Volatility Index across a range of interest rate environments, as defined by changes in the 10-year Treasury rate, over the last decade.
Data shows that, while low volatility strategies in general have tended to underperform the broad market in rising rate environments, the Morningstar index, which looks beyond stock-specific risk to the entire portfolio, tended to do better than the S&P index, which uses a relative simple methodology, targeting the least-volatile 100 members of the S&P 500 during the past 12 months and weighting its holdings by the inverse of their volatility.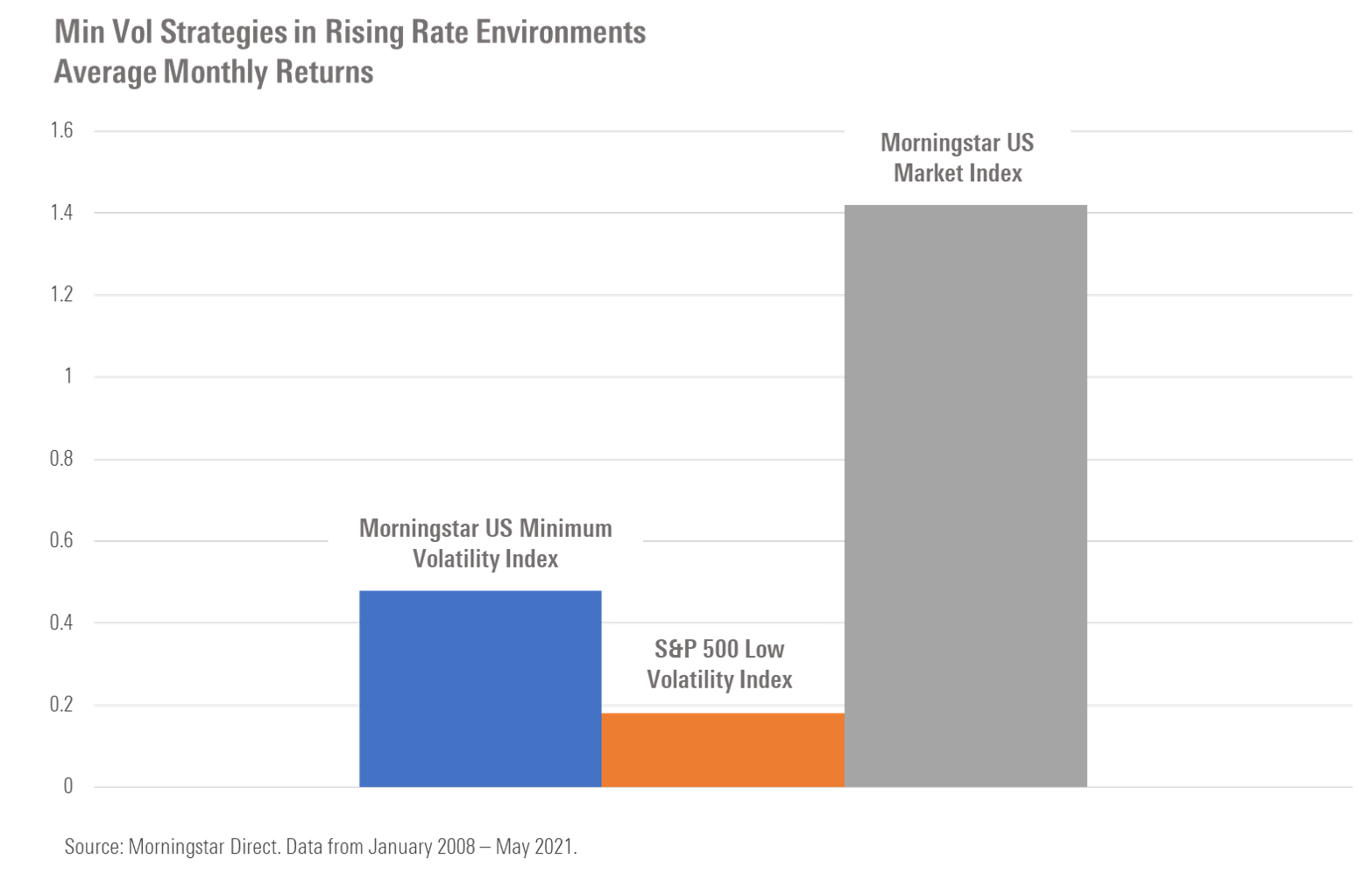 Alex Bryan – Director of Equity Product Management, Morningstar Indexes
"A simple approach is not always the best approach when measuring markets, particularly when navigating market volatility. For index-based investors looking at low volatility strategies, particularly during an environment where we may see a sustained rise in interest rates, looking under the hood of your index can be a wise strategy."
To speak with Alex Bryan, please contact Tim Benedict at (203) 339-1912 or tim.benedict@morningstar.com.
©2021 Morningstar. All Rights Reserved. The information, data, analyses and opinions contained herein (1) include the proprietary information of Morningstar, (2) may not be copied or redistributed, (3) do not constitute investment advice offered by Morningstar, (4) are provided solely for informational purposes and therefore are not an offer to buy or sell a security, and (5) are not warranted to be correct, complete or accurate. Morningstar has not given its consent to be deemed an "expert" under the federal Securities Act of 1933. Except as otherwise required by law, Morningstar is not responsible for any trading decisions, damages or other losses resulting from, or related to, this information, data, analyses or opinions or their use. Past performance does not guarantee future results. Before making any investment decision, consider if the investment is suitable for you by referencing your own financial position, investment objectives, and risk profile. Always consult with your financial advisor before investing.
Morningstar indexes are created and maintained by Morningstar, Inc. Morningstar® is a registered trademark of Morningstar, Inc.