Index Insights
Global Revenue Sources Increased During the Pandemic
According to New Research from Morningstar Indexes
Morningstar Indexes has recently updated its Morningstar Indexes Revenue Map to reflect changes in company sources of revenue from 2019 to 2020. The Revenue Map is based on geographic revenue data for 7,391 of the constituents within the Morningstar Global Markets Index representing 99.4% of global equity market capitalization across developed and emerging markets.
Findings show that companies actually looked more outside their borders, not inward, for sources of revenue over the past year despite the pandemic, suggesting that global markets and not local factors have continued to drive performance.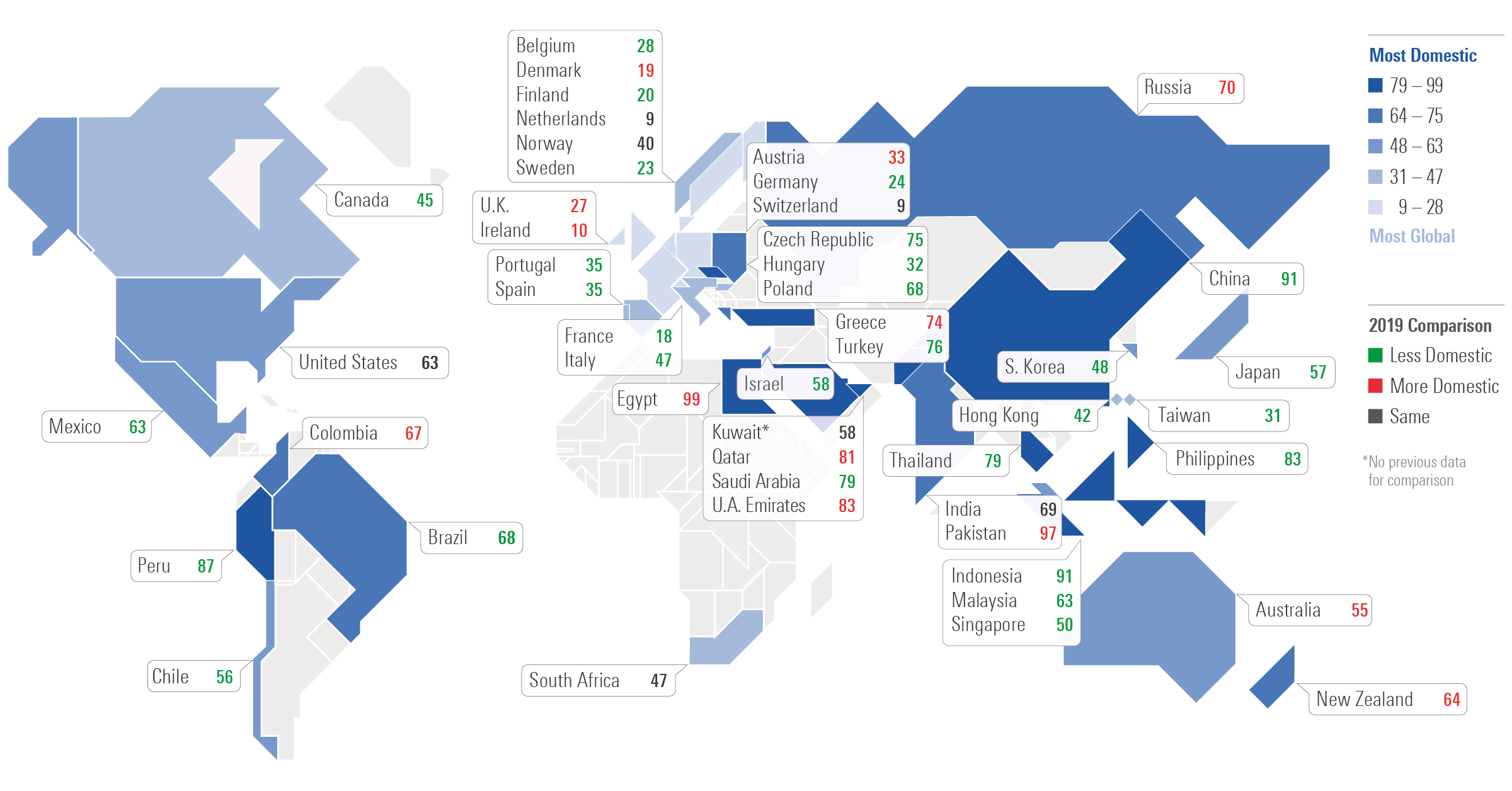 As displayed in the Morningstar Indexes Revenue Map, corporate filings show 29 countries actually grew the share of revenue sourced outside their home market in 2020 as compared with 13 countries that became more domestic.
Despite predictions that the pandemic would reverse or slow globalization, the domestic / foreign revenue mix for the Morningstar US Market Index did not budge in 2020 – holding steady at 63% domestic.
Globalized revenue streams have become the norm for developed markets. The UK, for example, sources just 27% of its revenue domestically, already reflecting the more "Global Britain" envisioned post-Brexit.
Looking at emerging markets, Brazilian companies generated 68% of their revenue domestically in 2020, down from 77% a year earlier, as Covid struggles forced businesses to look abroad for opportunity.

Dan Lefkovitz – Strategist, Morningstar Indexes
"Looking at Morningstar Indexes through the lens of geographic revenue exposure helps underscore the potential benefit to investors of continuing to look outside their home market for investment opportunity. As shown during the global pandemic, local economies do not always move in lockstep with local markets and globalization is alive and well."
For a copy of the new report, or to speak with Dan Lefkovitz, please contact Tim Benedict at (203) 339-1912 or tim.benedict@morningstar.com.
©2021 Morningstar. All Rights Reserved. The information, data, analyses and opinions contained herein (1) include the proprietary information of Morningstar, (2) may not be copied or redistributed, (3) do not constitute investment advice offered by Morningstar, (4) are provided solely for informational purposes and therefore are not an offer to buy or sell a security, and (5) are not warranted to be correct, complete or accurate. Morningstar has not given its consent to be deemed an "expert" under the federal Securities Act of 1933. Except as otherwise required by law, Morningstar is not responsible for any trading decisions, damages or other losses resulting from, or related to, this information, data, analyses or opinions or their use. Past performance does not guarantee future results. Before making any investment decision, consider if the investment is suitable for you by referencing your own financial position, investment objectives, and risk profile. Always consult with your financial advisor before investing.
Morningstar indexes are created and maintained by Morningstar, Inc. Morningstar® is a registered trademark of Morningstar, Inc.