The performance differential between the Canada and US equity markets in 2022 might be called a Tale of Two Sectors, according to analysis by Morningstar Indexes.
The Morningstar Canada Domestic Index has declined 9.4% year-to-date as of June 16 as compared to a 21.7% decline for the Morningstar US Total Market Exposure Index for the same time period (in Canadian dollar terms). This reverses a notably different long-term trend which saw the Canada index underperform its US counterpart by approximately seven hundred basis points on an average annual basis over the last ten years.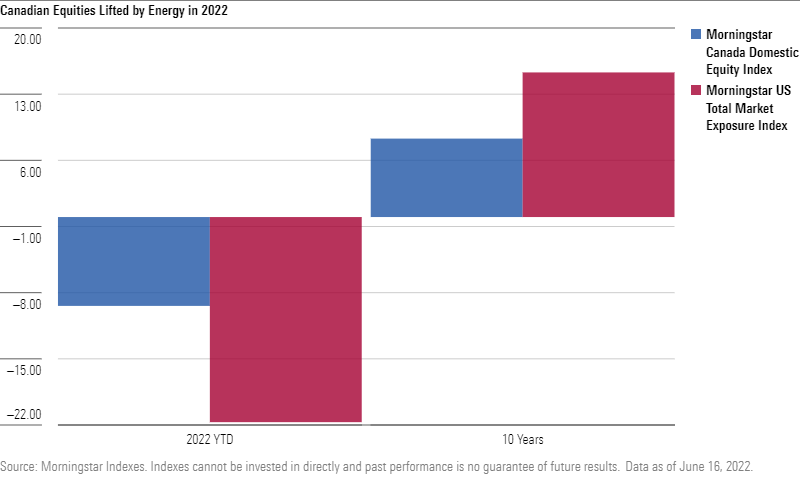 Canada's relative overweight to the Energy sector and minimal Technology sector exposure have contributed to its outperformance relative to the US this year. Interestingly, in 2022 of the 11 Global Equity Sectors tracked by Morningstar, Energy is the best performer and Technology is the worst. Over the past 10 years, the exact opposite is true, with Technology the best performing sector and Energy the worst.
Dan Lefkovitz, Strategist, Morningstar Indexes
"As a resources-heavy market, Canada is benefitting from surging prices for oil and other commodities. In the US, the tech sector, which was overvalued coming into the year, has been leading the market down, but the tech wreck in Canada has been mostly limited to Spotify. Historical perspective is important. US equities have been outperforming Canadian equities for the past several years, but the Canadian market led during the years of the commodities supercycle in the early 2000s. The cycle could be turning once again. This analysis helps underscore the value of indexes to track and understand varied market structure and composition across global markets and how these nuances can impact performance."
David Stephenson, CIBC Asset Management
"The divergence of performance between the Canadian and U.S. equity markets in 2022 once again illustrates the importance of broadly diversified portfolios. Diversification through broad based indices has several benefits to investors, but one of the largest is that it helps to improve potential returns and stabilize portfolios. By owning multiple assets and exposures that perform differently, you reduce the overall risk of your portfolio, so no single investment can hurt you."
If you have any questions or would like to speak with Dan Lefkovitz, please reach out to Tim Benedict at tim.benedict@morningstar.com or (203) 339-1912.