The Takeaway
Despite a turbulent year in the financial markets, unicorns experienced a remarkable expansion. By 2022's end, there were 1,217 venture capital-backed companies that had achieved a valuation of $1 billion or more with an aggregate market value of $4.5 trillion.
The Morningstar PitchBook Global Unicorn 500 Index dropped by 7.04%, outperforming the Morningstar Global Market Index, which lost 17.9%. Similarly, the Morningstar PitchBook Unicorn US 100 Index declined 3.16% versus the 19.4% correction for the Morningstar US Market Index.
The secular shift from public to private markets continued as a staggering $508 billion poured into global VC-backed companies compared to $178 billion raised through public markets.
---
In each year over the past two decades, more money has been raised in private markets than in public markets. This trend defied even the tumult of 2022 as venture-backed companies raised billions despite economic uncertainty. "Unicorns," or venture capital-backed companies valued at $1 billion or more, have grown to occupy a considerable share of institutional portfolios over the past decade, and many retail investors are beginning to make them part of their equity portfolio allocations.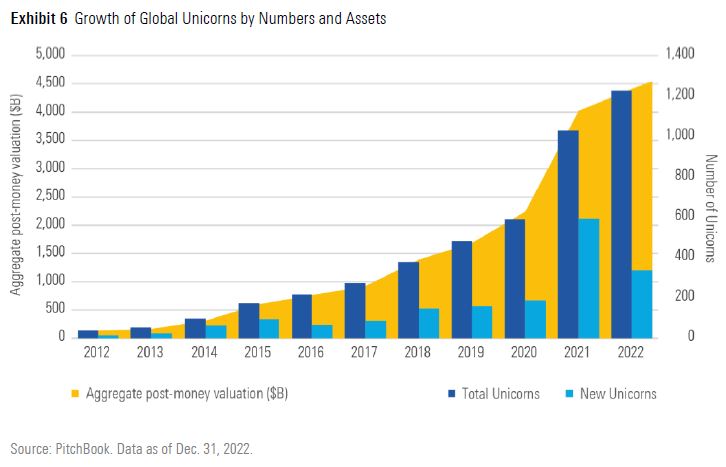 To help investors make better sense of this burgeoning market, we are excited to present the first issue of Morningstar Unicorn Market Monitor. Leveraging our recently launched Morningstar PitchBook Global Unicorn Indexes, we provide a wealth of data-driven insights on the risks and rewards looming in the late-stage venture markets. The Morningstar PitchBook Global Unicorn Indexes dynamically track trends in this segment using a proprietary mark-to-model pricing methodology, allowing investors to stay updated on daily valuations based on private assessments as well as comparable public stock prices.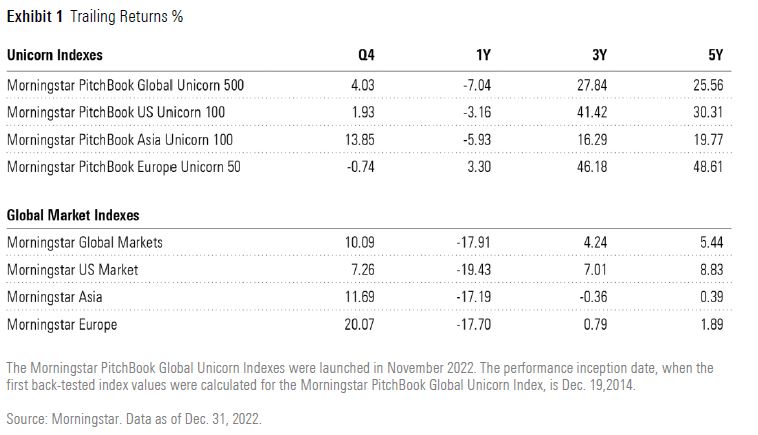 ---
©2023 Morningstar. All Rights Reserved. The information, data, analyses and opinions contained herein (1) include the proprietary information of Morningstar, (2) may not be copied or redistributed, (3) do not constitute investment advice offered by Morningstar, (4) are provided solely for informational purposes and therefore are not an offer to buy or sell a security, and (5) are not warranted to be correct, complete or accurate. Morningstar has not given its consent to be deemed an "expert" under the federal Securities Act of 1933. Except as otherwise required by law, Morningstar is not responsible for any trading decisions, damages or other losses resulting from, or related to, this information, data, analyses or opinions or their use. References to specific securities or other investment options should not be considered an offer (as defined by the Securities and Exchange Act) to purchase or sell that specific investment. Past performance does not guarantee future results. Before making any investment decision, consider if the investment is suitable for you by referencing your own financial position, investment objectives, and risk profile. Always consult with your financial advisor before investing.
Indexes are unmanaged and not available for direct investment.
Morningstar indexes are created and maintained by Morningstar, Inc. Morningstar® is a registered trademark of Morningstar, Inc.