In a fourth quarter which thus far has seen a strong recovery for global markets despite continued uncertainty, the leveraged loan market has also seen a recovery, according to the Morningstar Leveraged Loan Indexes.
In the fourth quarter through November 8, the Morningstar LSTA US Leveraged Loan Index has risen 1.7%. In the same time period, the Morningstar LSTA US Leveraged Loan 100 Index, which tracks the 100 most liquid and tradable constituents within the US Leveraged Loan Index, has risen 2.6%.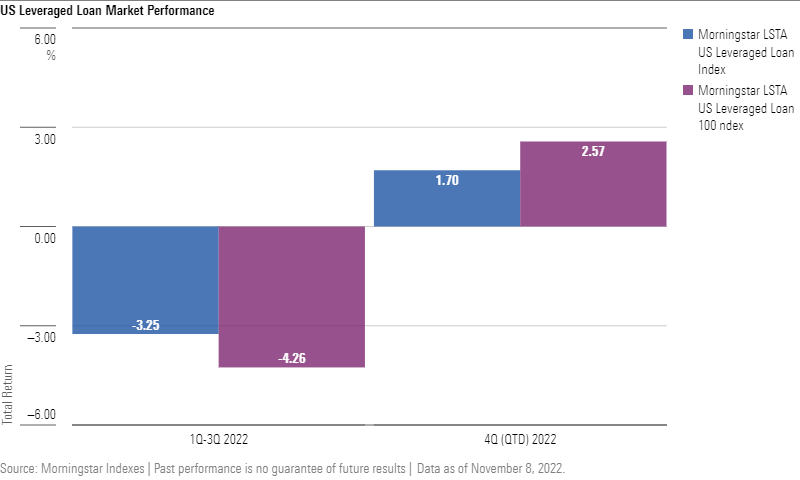 Katie Binns, Senior Fixed Income Product Manager, Morningstar Indexes
"Unlike high yield bonds, leveraged loans have held up well in the rising interest rate environment. In particular, energy sector loans have had the strongest year-to-date performance within the Morningstar LSTA US Leveraged Loan Index. That said, the current election environment and midterms this week add an additional layer of uncertainty and market volatility for the loan market."
To find out more about the Morningstar Leveraged Loan Indexes, go to the Morningstar Indexes website. To speak with Katie, reach out to Tim Benedict at tim.benedict@morningstar.com or (203) 339-1912.
---
©2022 Morningstar. All Rights Reserved. The information, data, analyses and opinions contained herein (1) include the proprietary information of Morningstar, (2) may not be copied or redistributed, (3) do not constitute investment advice offered by Morningstar, (4) are provided solely for informational purposes and therefore are not an offer to buy or sell a security, and (5) are not warranted to be correct, complete or accurate. Morningstar has not given its consent to be deemed an "expert" under the federal Securities Act of 1933. Except as otherwise required by law, Morningstar is not responsible for any trading decisions, damages or other losses resulting from, or related to, this information, data, analyses or opinions or their use. Past performance does not guarantee future results. Before making any investment decision, consider if the investment is suitable for you by referencing your own financial position, investment objectives, and risk profile. Always consult with your financial advisor before investing.
Credit risk is the risk an issuer cannot make interest and principal payments when due. If an issuer or guarantor of a security defaults or is downgraded, or if the value of the assets underlying a security declines, the value of the investment will decline and may become worthless.
Indexes are unmanaged and not available for direct investment.
Morningstar indexes are created and maintained by Morningstar, Inc. Morningstar® is a registered trademark of Morningstar, Inc.