Bonds have continued to rally in 2023 as further Fed tightening, uncertain markets and banking system jitters fuel an investor flight to safety, according to new insights from Morningstar Indexes.
As the FOMC met for its latest monetary policy confab this week to weigh the pluses and minuses of continuing to tighten interest rates in the face of an increasingly noisy banking sector and turbulent market, investors have increased their appetite for longer-dated US Treasury securities, driving down yields and driving up prices.
The Morningstar US 10+ Year Treasury Bond Index, which measures the performance of fixed-rate, investment-grade USD-denominated Treasury bonds with maturities greater than ten years, has risen more than 6% in 2023 as of May 2 after declining nearly 30% in 2022. Shorter-term US Treasury securities, as measured by the Morningstar US 1-5 Year Treasury Bond Index, have also had a renaissance in 2023, although to a smaller extent, with a 2.4% year-to-date rise after a 5.4% decline last year.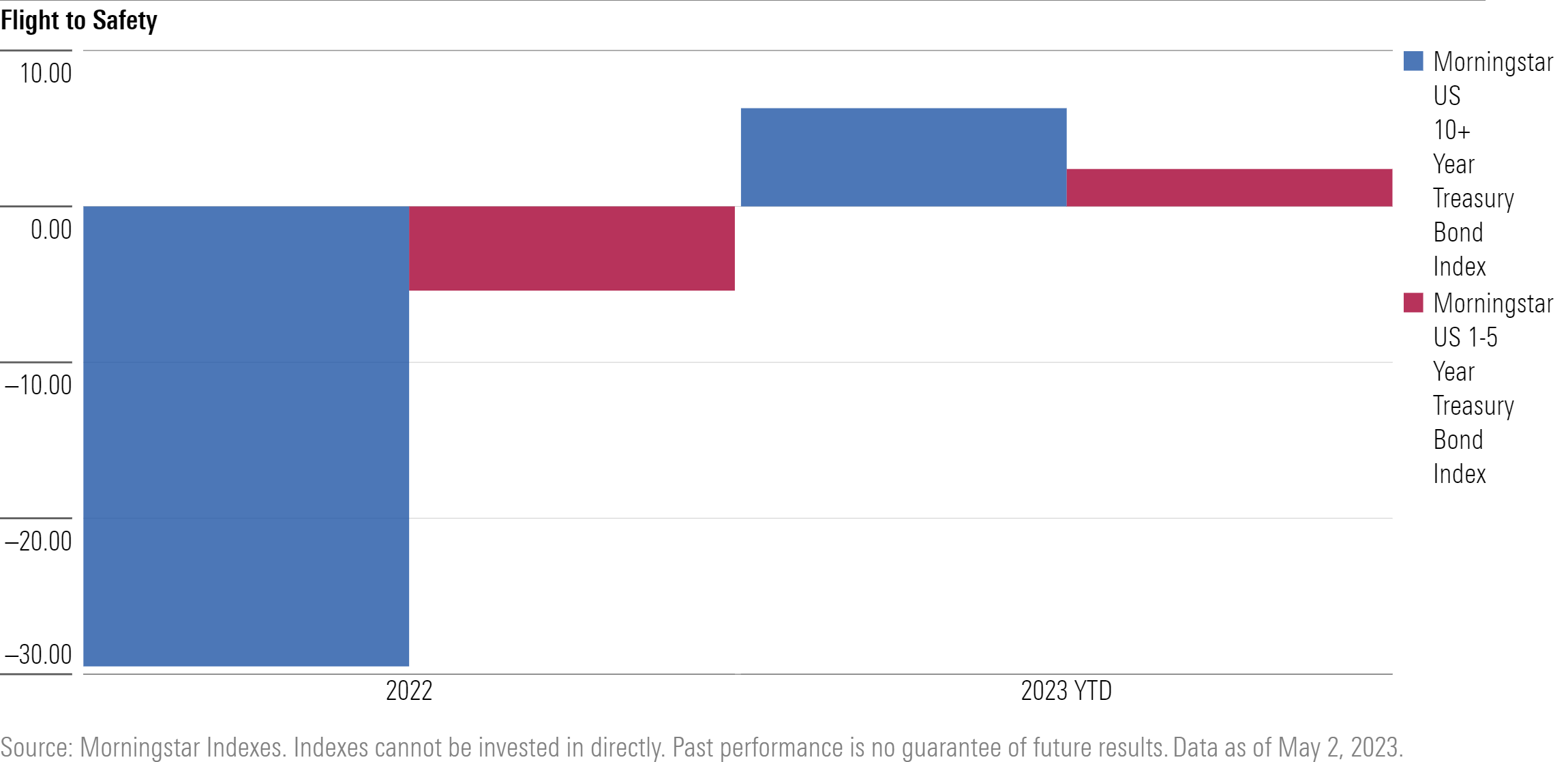 "Today the Fed raised rates 25bps in yet another move that dials up the pressure to combat inflation and temper the tight employment market," said Morningstar Indexes Director of Fixed Income & Multi-Asset Katie Binns. "The lingering question is whether this move will expose or expedite cracks already forming, as we saw with First Republic earlier this week, and accelerate the path toward a mild recession. We expect to see continued strong performance in the Treasury market as investors seek to bolster their portfolios amid continued uncertainty, with the Morningstar 10+ Year Treasury Bond Index leading in YTD performance vs. shorter dated maturities."
---
©2023 Morningstar. All Rights Reserved. The information, data, analyses and opinions contained herein (1) include the proprietary information of Morningstar, (2) may not be copied or redistributed, (3) do not constitute investment advice offered by Morningstar, (4) are provided solely for informational purposes and therefore are not an offer to buy or sell a security, and (5) are not warranted to be correct, complete or accurate. Morningstar has not given its consent to be deemed an "expert" under the federal Securities Act of 1933. Except as otherwise required by law, Morningstar is not responsible for any trading decisions, damages or other losses resulting from, or related to, this information, data, analyses or opinions or their use. References to specific securities or other investment options should not be considered an offer (as defined by the Securities and Exchange Act) to purchase or sell that specific investment. Past performance does not guarantee future results. Before making any investment decision, consider if the investment is suitable for you by referencing your own financial position, investment objectives, and risk profile. Always consult with your financial advisor before investing.
Indexes are unmanaged and not available for direct investment.
Morningstar indexes are created and maintained by Morningstar, Inc. Morningstar® is a registered trademark of Morningstar, Inc.