Amid flagging investor optimism, persistent inflation, renewed warning signs of a recession and expectations for another 75 basis-point rise in the Federal funds rate this week, US leveraged loans have been a rare bright spot.
The Morningstar LSTA® US Leveraged Loan 100 Index, designed to measure the performance of the 100 largest facilities in the US leveraged loan market, has held up fairly well in 2022, down 2.2% relative to an 11%+ decline on the Morningstar High Yield Bond Index year-to-date as of September 19 and even larger year-to-date losses on the Morningstar US Core Bond Index for the same time period. The index is up nearly 3.5% in the third quarter as of September 19. In addition, yields on the index are trending near year-to-date highs at 7.3%.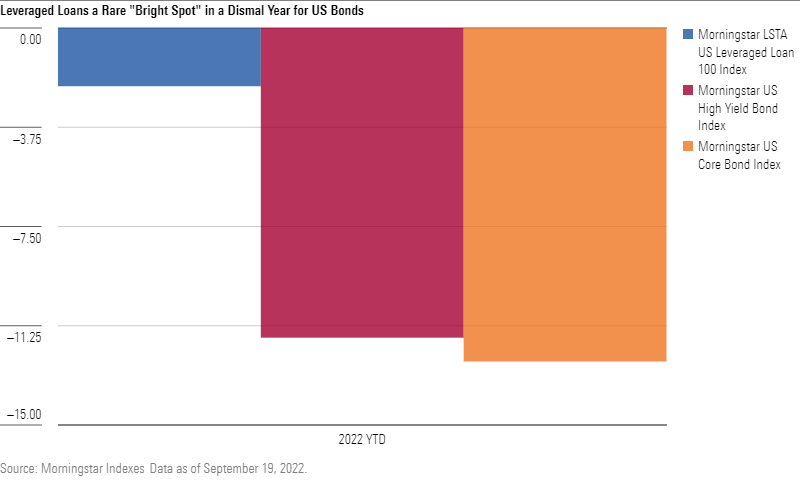 Katie Binns, Director of Fixed Income & Multi Asset Indexes, Morningstar
"In this 'nowhere to run, nowhere to hide' market, US bank loans, or leveraged loans, have been a rare bright spot. These loans are generally considered higher quality and are shorter in duration than high yield bonds, and in times of market stress fixed income investors tend to move up the quality scale while shortening duration. Leveraged loans have historically performed well in a rising interest rate environment. And the floating rate nature of leveraged loans offers investors protection from inflation and a source of steady income."
To speak with Katie Binns, reach out to Tim Benedict at tim.benedict@morningstar.com or (203) 339-1912.
---
©2022 Morningstar. All Rights Reserved. The information, data, analyses and opinions contained herein (1) include the proprietary information of Morningstar, (2) may not be copied or redistributed, (3) do not constitute investment advice offered by Morningstar, (4) are provided solely for informational purposes and therefore are not an offer to buy or sell a security, and (5) are not warranted to be correct, complete or accurate. Morningstar has not given its consent to be deemed an "expert" under the federal Securities Act of 1933. Except as otherwise required by law, Morningstar is not responsible for any trading decisions, damages or other losses resulting from, or related to, this information, data, analyses or opinions or their use. References to specific securities or other investment options should not be considered an offer (as defined by the Securities and Exchange Act) to purchase or sell that specific investment. Past performance does not guarantee future results. Before making any investment decision, consider if the investment is suitable for you by referencing your own financial position, investment objectives, and risk profile. Always consult with your financial advisor before investing.
All investments involve risk, including the loss of principal. There can be no assurance that any financial strategy will be successful. Customers should seriously consider if an investment is suitable for them by referencing their own financial position, investment objectives, and risk profile before making any investment decision.
Fixed-income securities are influenced by interest rate sensitivity and credit risk. They have varying levels of sensitivity to changes in interest rates, but in general, the price of a fixed-income security tends to fall when interest rates rise and vice versa. The value of a fixed-income security with a longer duration or maturity is typically impacted more by a change in interest rates than one with a shorter duration or maturity.
Credit risk is the risk an issuer cannot make interest and principal payments when due. If an issuer or guarantor of a security defaults or is downgraded, or if the value of the assets underlying a security declines, the value of the investment will decline and may become worthless.
Investors should be aware of an issuer's assets, debt, and solvency prior to investing. Other risks to investing in fixed-income securities include early redemption risk, extension risk, income risk, inflation risk, liquidity risk, and prepayment risk.
Morningstar indexes are created and maintained by Morningstar, Inc. Morningstar® is a registered trademark of Morningstar, Inc. Indexes are not available for direct investment.