"It ain't over till it's over," a phrased first coined by baseball legend Yogi Berra, could easily be applied to the most recent debt ceiling debate in Washington. As bi-partisan negotiations wind their way toward a House vote and the likelihood of a deal increases, US Treasury yield analysis from Morningstar Indexes details day-to-day shifts in investor sentiment.
Katie Binns – Director of Fixed Income & Multi-Asset, Morningstar Indexes
"Last week, prevailing uncertainty around debt ceiling negotiations led to a gap of more than 200 basis points in yield on US Treasury Bills maturing in early June and those maturing in early July, with short-term Treasury bill end-of-day yields nearing 6% on Wednesday. However, surrounding the long holiday weekend as deal prospects improved, that difference narrowed and the Morningstar US 1-3 Month Treasury Bill Index yield declined by 1.3%. As the House prepares to vote today, market jitters appear to have returned with the short-term Treasury yield moving back up."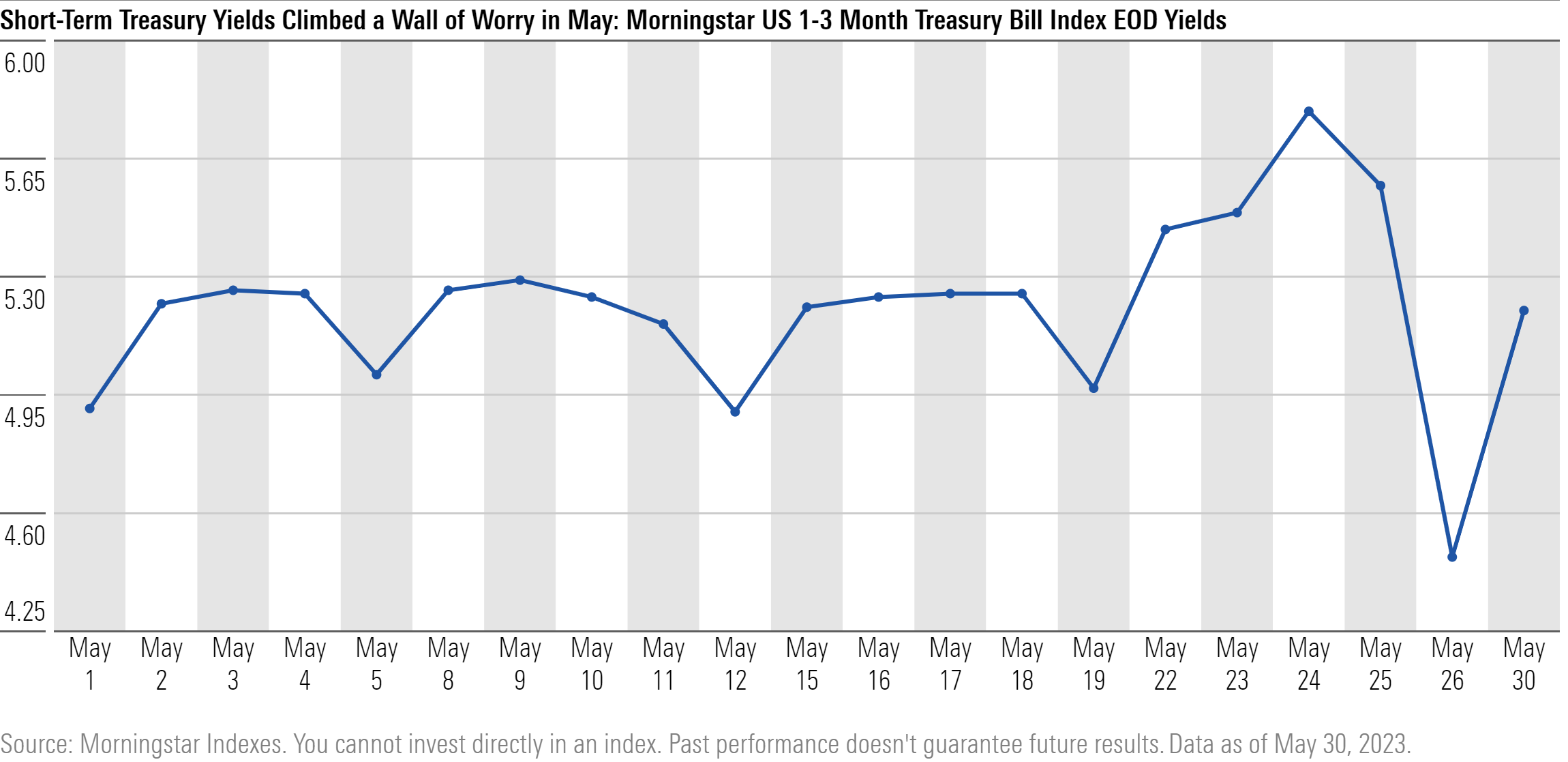 ---
©2023 Morningstar. All Rights Reserved. The information, data, analyses and opinions contained herein (1) include the proprietary information of Morningstar, (2) may not be copied or redistributed, (3) do not constitute investment advice offered by Morningstar, (4) are provided solely for informational purposes and therefore are not an offer to buy or sell a security, and (5) are not warranted to be correct, complete or accurate. Morningstar has not given its consent to be deemed an "expert" under the federal Securities Act of 1933. Except as otherwise required by law, Morningstar is not responsible for any trading decisions, damages or other losses resulting from, or related to, this information, data, analyses or opinions or their use. References to specific securities or other investment options should not be considered an offer (as defined by the Securities and Exchange Act) to purchase or sell that specific investment. Past performance does not guarantee future results. Before making any investment decision, consider if the investment is suitable for you by referencing your own financial position, investment objectives, and risk profile. Always consult with your financial advisor before investing.
Indexes are unmanaged and not available for direct investment.
Morningstar indexes are created and maintained by Morningstar, Inc. Morningstar® is a registered trademark of Morningstar, Inc.