The Takeaway
The Morningstar PitchBook Global Unicorn Index, a proxy for the late-stage venture market, trailed public markets in the first quarter of 2023—supporting the notion that private company valuations generally lag public equity prices.
Private market valuations of many unicorns have seen a drastic decline in the first quarter, with global payments firm Stripe, a bellwether for the late-stage market, seeing its valuation halved from USD 95 billion to an estimated USD 50 billion in the latest fundraise.
---
A confluence of macroeconomic factors that created headwinds for late-stage venture in the latter half of 2022 were further exacerbated by destabilization in the funding ecosystem caused by the collapse of Silicon Valley Bank and Signature Bank in the first quarter of 2023. Further, as interest rates continue to rise, an industry built upon abundant investor funding is feeling the pinch.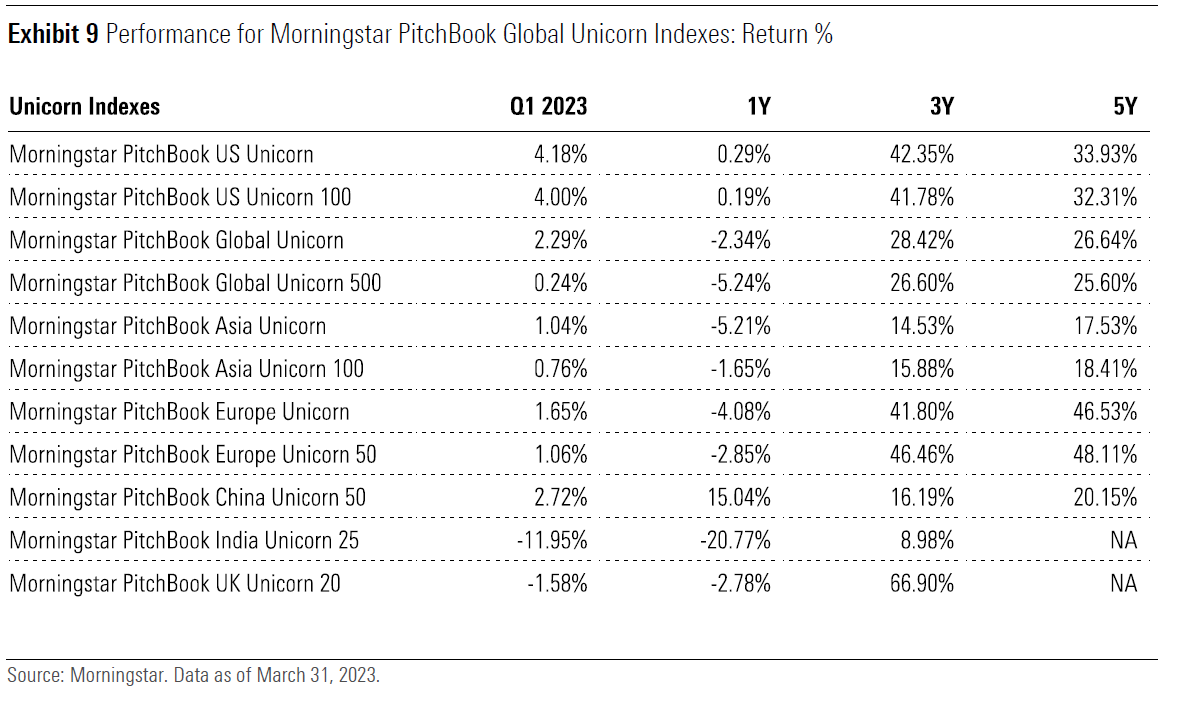 Leveraging the recently launched Morningstar PitchBook Global Unicorn Indexes, we provide a wealth of data-driven insights on the risks and rewards looming in the late-stage venture markets. The Morningstar PitchBook Global Unicorn Indexes dynamically track trends in this segment using a proprietary mark-to-model pricing methodology, allowing investors to stay up to date on daily valuations based on private assessments as well as comparable public stock prices.
---
©2023 Morningstar. All Rights Reserved. The information, data, analyses and opinions contained herein (1) include the proprietary information of Morningstar, (2) may not be copied or redistributed, (3) do not constitute investment advice offered by Morningstar, (4) are provided solely for informational purposes and therefore are not an offer to buy or sell a security, and (5) are not warranted to be correct, complete or accurate. Morningstar has not given its consent to be deemed an "expert" under the federal Securities Act of 1933. Except as otherwise required by law, Morningstar is not responsible for any trading decisions, damages or other losses resulting from, or related to, this information, data, analyses or opinions or their use. References to specific securities or other investment options should not be considered an offer (as defined by the Securities and Exchange Act) to purchase or sell that specific investment. Past performance does not guarantee future results. Before making any investment decision, consider if the investment is suitable for you by referencing your own financial position, investment objectives, and risk profile. Always consult with your financial advisor before investing.
Indexes are unmanaged and not available for direct investment.
Morningstar indexes are created and maintained by Morningstar, Inc. Morningstar® is a registered trademark of Morningstar, Inc.