Morningstar EU Climate Indexes
Supporting Investors Through the Transition to a Low-Carbon, Climate-Resilient World
Key Features
Morningstar EU Climate Indexes
Providing a decarbonization trajectory to limit the global increase in temperatures to below 1.5C while minimizing tracking error to the parent index.
Compliant with EU Benchmark Regulation
Satisfies the minimum standards laid out to achieve the EU CTB and EU PAB labels, ensuring regulatory compliance to meet the 1.5 degree scenario by 2050.
Intelligent, transparent design
Rules-based, easy-to-understand methodology that tilts exposure toward companies offering green solutions or those with credible carbon reduction targets while limiting exposure to climate transition risks.
Underpinned by Morningstar Sustainalytics
Leverages Scope 1, 2, and 3 Carbon Emissions Data and unique forward-looking Carbon Risk Ratings from Sustainalytics.
Address Transition Risk
Underweights high carbon emitters based on Sustainalytics Scope 1, 2, and 3 Emissions Data.
Underweights companies that are deemed high risk through Sustainalytics Carbon Risk Rating.
Tilts weights toward companies setting and meeting credible emissions reduction targets.
Aims to prevent greenwashing by not ignoring high climate risk sectors.
Highlight Carbon Solutions
Increases the weight of companies exposed to positive climate transition solutions.
Shifts weights towards companies operating in Renewable Energy, Green Transportation, Green Real Estate, and Energy Efficiency.
Align with the 1.5 Celsius Scenario
Designed to align with a 1.5 degree scenario.
Applies a climate transition matrix that utilizes forward looking Sustainalytics Climate Solutions, incorporating a year-on -year self-decarbonization of at least 7%.
Minimizing Tracking Error
Aims to reduce tracking error to the parent index, making the index series suitable core portfolio exposures.
REPORT
Beyond "Net Zero": Supporting the Transition to a Climate-Resilient Planet
In this paper you will learn how Morningstar Sustainalytics helps investors balance the goals of reducing exposure to carbon emissions, supporting green solutions, and maintaining benchmark-like exposure.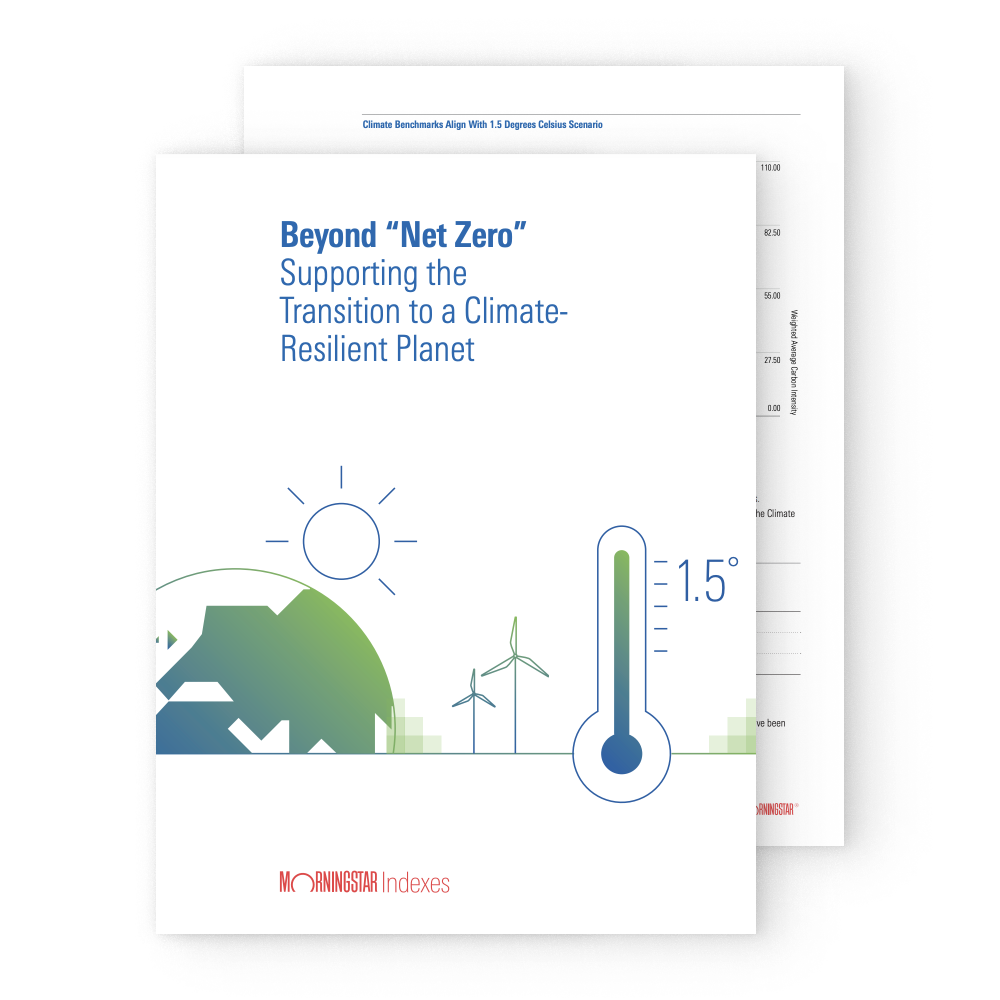 Morningstar Sustainalytics is a leading ESG research, ratings and data firm that supports investors around the world with the development and implementation of responsible investment strategies. For nearly 30 years, the firm has been at the forefront of developing high-quality, innovative solutions to meet the evolving needs of global investors. Today, Morningstar Sustainalytics works with hundreds of the world's leading asset managers and pension funds who incorporate ESG and corporate governance information and assessments into their investment processes. The firm also works with hundreds of companies and their financial intermediaries to help them consider sustainability in policies, practices, and capital projects. With 17 offices globally, Morningstar Sustainalytics has more than 1,800 staff members, including more than 800 analysts with varied multidisciplinary expertise across more than 40 industry groups.
KEEP CONNECTED
Insights from the Leading Edge
We keep up with the evolving needs of investors in a way that only Morningstar can: by leveraging our heritage as a trusted provider of data and research.