Morningstar Sustainable Investing Index Solutions
Equity and Fixed Income Indexes Across a Range of Sustainable Investing Approaches
Key Features
Morningstar Sustainable Investing Index Solutions
Underpinned by Morningstar Sustainalytics
A leader in ESG and climate research, ratings, and data with a deep history of developing high-quality, innovative solutions to meet the evolving needs of global investors.
A full range of solutions to support investor objectives
Equity, fixed income, and multi-asset index capabilities across a range of sustainable investable approaches, including ESG risk mitigation, climate considerations, and impact investing.
Customizable
With a distinct specialty in index research, development, and regulation and the exclusive ability to embed any combination of Morningstar Sustainalytics research, ratings, and data, we can build solutions to support unique mandates or strategies.
ANALYSIS
There's More Than One Way to Be a Climate Investor
"Low carbon," "net zero," "energy transition," "green technology," and "climate solutions," are among the many terms applied to climate-focused investment strategies. But how do they differ in terms of ESG-related outcomes? What are their implications for risk and return?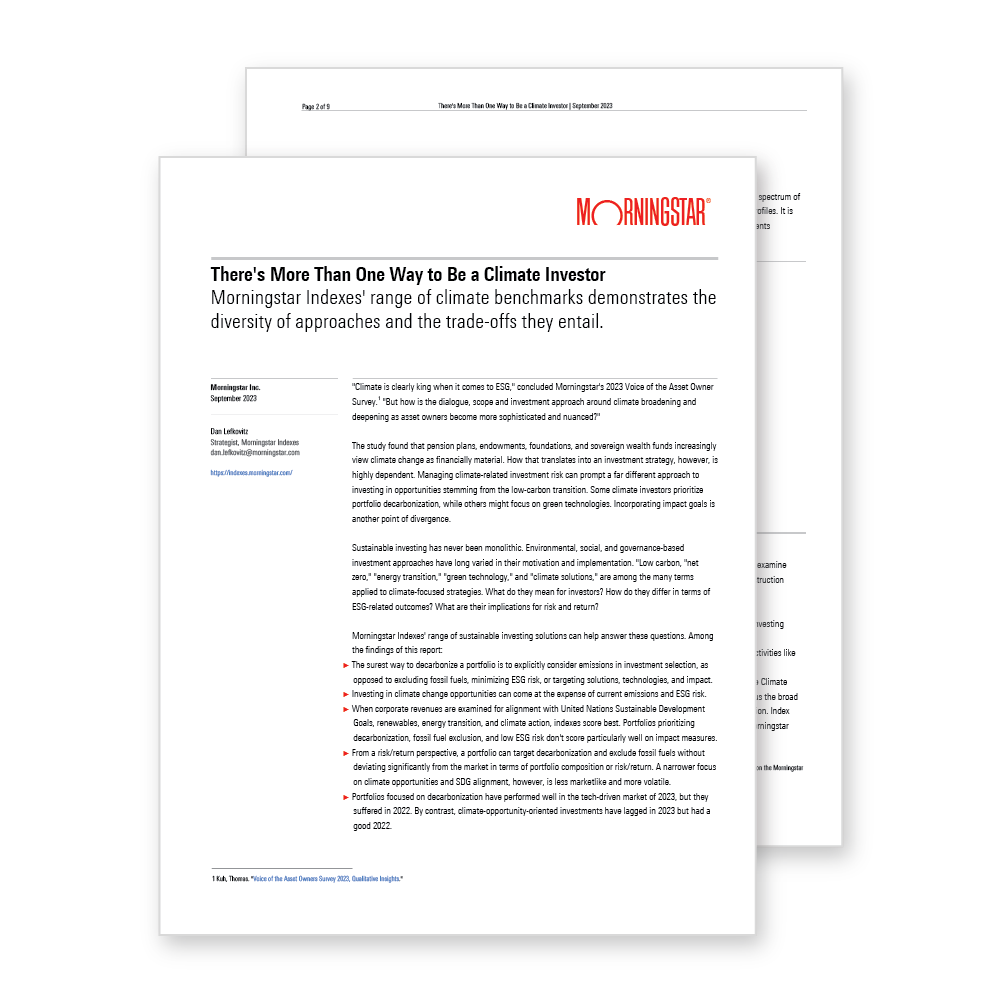 Morningstar Global Sustainable Activities Involvement Indexes
The Morningstar Global Sustainable Activities Involvement Indexes enable targeted exposure to important global themes like climate action, human development, resource security, healthy ecosystems, and basic needs.
Morningstar Gender Diversity Indexes
The Morningstar Gender Diversity Indexes are designed to deliver broad market exposure with a focus on gender equality.
Morningstar Sustainability Indexes
The Morningstar Sustainability Indexes provide broad, diversified exposure to equity and fixed income markets with significantly lowered ESG risk.
Morningstar EU Climate Indexes
The Morningstar EU Climate Indexes support investors though the transition to a low-carbon, climate resilient world.
Morningstar Sustainalytics is a leading ESG research, ratings and data firm that supports investors around the world with the development and implementation of responsible investment strategies. For nearly 30 years, the firm has been at the forefront of developing high-quality, innovative solutions to meet the evolving needs of global investors. Today, Morningstar Sustainalytics works with hundreds of the world's leading asset managers and pension funds who incorporate ESG and corporate governance information and assessments into their investment processes. The firm also works with hundreds of companies and their financial intermediaries to help them consider sustainability in policies, practices, and capital projects. With 17 offices globally, Morningstar Sustainalytics has more than 1,800 staff members, including more than 800 analysts with varied multidisciplinary expertise across more than 40 industry groups.
KEEP CONNECTED
Insights from the Leading Edge
We keep up with the evolving needs of investors in a way that only Morningstar can: by leveraging our heritage as a trusted provider of data and research.