In a year which has seen a global equity market slowdown amid rising inflation, central bank tightening and increasing levels of geopolitical uncertainty, dividend-oriented ESG-friendly stocks have been a bright spot in the Japan equity market.
In 2022 as of August 12, the Morningstar Japan Sustainability Dividend Yield Focus Index has risen nearly 15% (JPY-based total return). This is compared to a 0.1% rise for its parent the Morningstar Japan Index. This also compares favorably to year-to-date returns for the Morningstar Japan Dividend Yield Focus Index (+6.1%) and the Morningstar Japan Sustainability Index (-2.7%).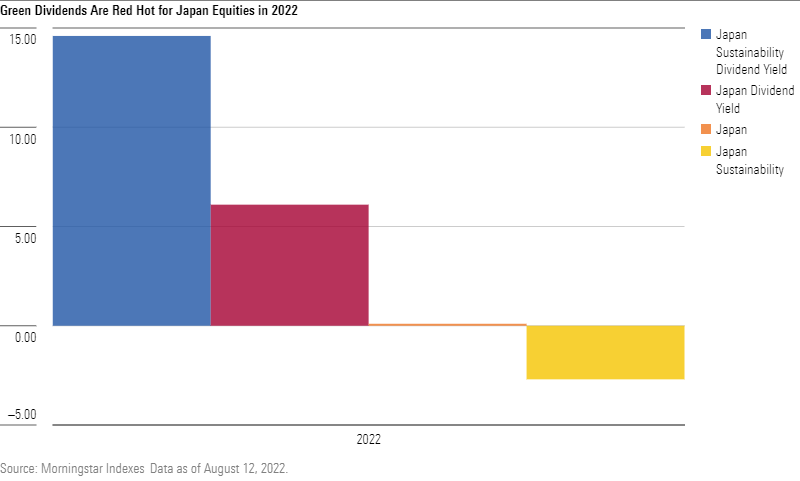 What factors have contributed to this outperformance for the index? The Morningstar Japan Sustainability Dividend Yield Focus Index is designed to track high-yielding, qualified-dividend-paying Japanese companies that scored highly on environmental, social and governance (ESG) investment criteria. This concentrated index of approximately 25 company constituents has benefited this year from positions in companies that have done well in the consumer cyclical (USS CO – 8.2% of Index), healthcare (Takeda Pharmaceutical – 10.5% of Index) and communications services (Nippon Telegraph & Telephone – 8.3% of Index) sectors.
Alex Bryan – Director of Equity Product Management, Morningstar Indexes
"The Morningstar Japan Sustainability Dividend Yield Focus Index provides a rules-based, automated means of gaining exposure to high-yielding, qualified-dividend-paying Japanese companies that score high on ESG criteria. The Index constituents are selected based on characteristics of superior quality and financial health as defined by their Morningstar Economic and Quantitative Moat Ratings and their ESG-friendly characteristics base on a high Morningstar Sustainability Rating."
Yohan Choi – Head of Product Solution Dept., Global X Japan
"The Morningstar Japan Sustainability Dividend Yield Focus Index is quite interesting and impressive, especially for those who consider increasing or creating new exposures to Japan equities. Global X Japan launched an ETF tracking this index March this year, and soon found that the index can be represent various market exposures, such as Income, ESG, and Quality, giving investors several views on the market. We believe having multiple facets to one index provides a higher possibility to exhibit stable and superior performance relative to the broad market."
To speak with Alex Bryan, reach out to Tim Benedict at tim.benedict@morningstar.com or (203) 339-1912.
---
©2022 Morningstar. All Rights Reserved. The information, data, analyses and opinions contained herein (1) include the proprietary information of Morningstar, (2) may not be copied or redistributed, (3) do not constitute investment advice offered by Morningstar, (4) are provided solely for informational purposes and therefore are not an offer to buy or sell a security, and (5) are not warranted to be correct, complete or accurate. Morningstar has not given its consent to be deemed an "expert" under the federal Securities Act of 1933. Except as otherwise required by law, Morningstar is not responsible for any trading decisions, damages or other losses resulting from, or related to, this information, data, analyses or opinions or their use. References to specific securities or other investment options should not be considered an offer (as defined by the Securities and Exchange Act) to purchase or sell that specific investment. Past performance does not guarantee future results. Before making any investment decision, consider if the investment is suitable for you by referencing your own financial position, investment objectives, and risk profile. Always consult with your financial advisor before investing.
Morningstar indexes are created and maintained by Morningstar, Inc. Morningstar® is a registered trademark of Morningstar, Inc. Indexes are not available for direct investment.
Morningstar, Inc. is not affiliated with Global X. Global X's products are not sponsored, endorsed, sold or promoted by Morningstar, and Morningstar makes no representation regarding the advisability of investing in any Global X product.